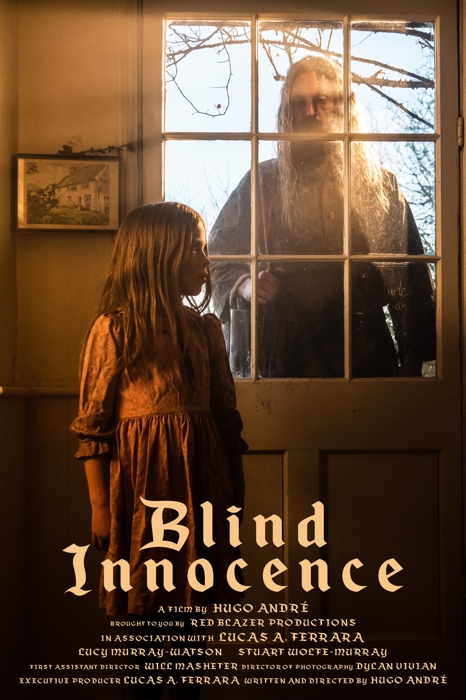 Imagine a world without electricity, cell phones, televisions, the Internet … and all the other modern conveniences to which we've become accustomed.
▫️
Well, BLIND INNOCENCE, written and directed by HUGO ANDRE, offers a glimpse into the life of a father and daughter living, in isolation, in an 1800s countryside cottage. While initially content with their humble existence, the youngster eventually begins to question her father's daily outings. And his disappearances spark a disquieting curiosity, as she's never been allowed to travel beyond the property's perimeters. But, as the film progresses, the deep, dark, secret underlying their seclusion is exposed.
▫️
You can now view this compelling, award-winning movie, for FREE, by clicking here: https://linktr.ee/blindinnocence
▫️
And if you'd like some "behind the scenes" insight into how this special film was made, check out the accompanying "Making of Blind Innocence" video. [Hugo, (right), and AP Will Masheter, (left), talk about their experiences on set.]
▫️
Special thanks to our stellar creative team:
✨
CAST:
Lucy Murray-Watson @lucymurraywatson
Stuart Wolfe-Murray @boywolfemurray
✨
CREW:
Written, directed & edited by: Hugo André @hugoandre_media
EP: Lucas A Ferrara @lucasaferrara
AP: Will Masheter @will_and_film
Prod manager: Adele Marie @adelemarieheenan
DOP: Dylan Vivian @dylan.bijou
1AC: Flo Goodlad-Skinner @flo_sknr
Sound Op & Design: Atom Inions @atom3eq
Music: Audio Networks
▫️
Cast aside all delusions. Give BLIND INNOCENCE a look.
.
.
 
# # #
To view a list of some of Lucas's other projects, click here: https://www.imdb.com/name/nm11739610/.
# # #
#lucasaferrara #movies #movie #film #films #shortfilm #shortfilms #drama #dramas #filmmaker #filmmaking #actor #actors #director #directing #festivalwinner #awardwinner #kids #children #religion #beliefs #moviemaking #moviemaker #moviemakers #bts #behindthescenes