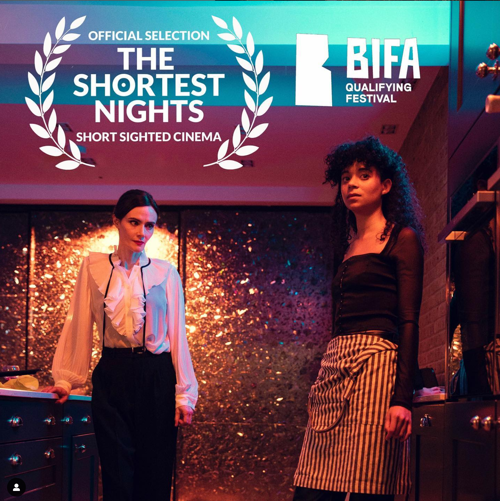 Founded in 2013, THE SHORTEST NIGHTS — Short Sighted Cinema's (London-based) film festival — prides itself on offering "exciting, entertaining and high-quality programmes celebrating the best in BRITISH SHORT FILM."
We're tickled pink to announce that TWOFOLD, written by Toto Bruin, and directed by Ella Greenwood, has been selected to screen at this BIFA qualifying event, scheduled from September 2-5, 2023.
In this film, as New Year's Eve festivities are underway above them, our protagonists have a chance encounter a floor below. But when they recognize each other from over a decade ago, these two pawns go head-to-head, as the past breaks the surface and fireworks ensue — with the project shining light on such universal themes as love, deception, abuse of power, and lack of consent.

For additional info, visit: https://richmix.org.uk/events/the-shortest-nights-film-festival-day-2-double-bill/
Our sincerest thanks not only to the festival's founders, programmers, judges, and sponsors for this great honor, but to our entire creative team for their contributions to this truly stellar single-take film. (Their Instagram tags follow.)

Made by @brokenflamespd for the @lucasaferrara Film Fund
Written by @totobruin
Director @popsella
Producer @lucasaferrara
Co-Prods @maya_bod @popsella
Starring: Phoebe Campbell, @rebeccacalder_, Clinton Blake
Casting @_zyrenka_casting_
DOP @xeniaxpatricia
Editor @editor_emmalie
Colourist @chris.shaw.colour
Sound Design @_inesadriana_
Composer @gabyamblercomposer
1AD @jameslockheart_
MUA & hair @chiaragiannettino_art
Prod. Design: Mahee Merica
Costume @chloepalmerdesign
1AC @alexjgtan
2AC @riccardo_garofalo_
Gaffer @leslielitin
Spark @anbo Wu
Script Supv'r: Daniel Joseph
Sound Record: @rufusambler
BTS Photos @ines_leila_hachou
Runners @tobybeynon Fraser Dodds
Thanks @izzy_meikle, @leanneladbury @focus24hire

Join the fold. TWOFOLD.
.
.
.
# # #
To view a list of some of Lucas's other projects, click here: https://www.imdb.com/name/nm11739610/.
# # #
.
.
.
#childabuse #love #abuse #sexualabuse #lossofinnocence #film #films #shortfilm #shortfilms #creatives #actors #filmmaker #filmmakers #moviemaker #moviemakers #filmmaking #moviemaking #art #relationship #relationships #power #manipulation