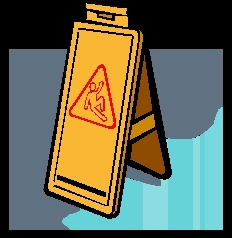 FALL CAUSED BY SMALL PUDDLE DIDN'T CUT IT
While at a Planet Fitness facility up in Newburgh (Orange County), a puddle of water that had accumulated in the vicinity of the men's locker room shower purportedly caused J.B. to slip and fall.
After he filed a personal-injury lawsuit with the Ulster County Supreme Court, a judge ended up dismissing the case, not only because the gym and other defendants lacked notice of the condition but because the accumulation wasn't considered "dangerous." (Apparently, the puddle was "approximately one foot by two feet in size and three to four feet away from the shower stall.")
On appeal, the Appellate Division, Third Department, agreed with that determination. It was of the view that the existence of some water "'was necessarily incidental to the use of the shower[,] and thus that it did not by itself constitute a dangerous condition.'"
And even though J.B. presented an affidavit from a professional engineer, the appellate court didn't think that document raised any "questions of fact," or otherwise established that the water accumulation was excessive. Since a wet floor – that is, "the presence of a normal amount of water" -- near a shower wasn't enough to trigger liability, the case's dismissal was allowed to stand.
Bet J.B. needed a shower after reading that ….
# # #