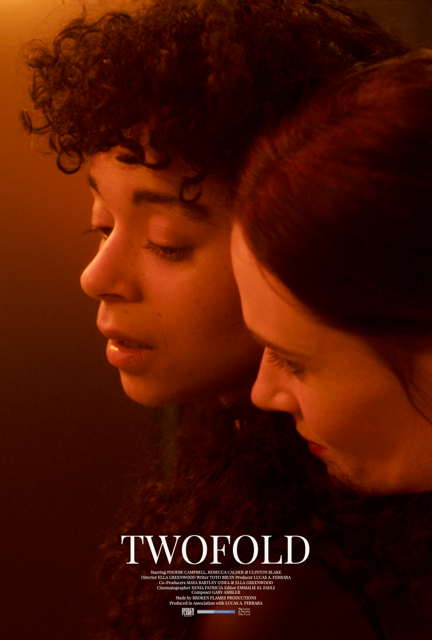 In TWOFOLD — a new film written by Toto Bruin, and directed by Ella Greenwood — our protagonists meet at a New Year's Eve party. While things start out pleasantly enough, as memories are refreshed, we witness a gradual, and emotionally intense, escalation of their exchange as a decade-long secret is gradually exposed.
Phoebe Campbell, known for her role as "Rhaena Targaryen" in "House of the Dragon" (HBO), stars with Rebecca Calder, whose credits include "Hilma," "Wrath of Man," "I May Destroy You," "Memory & Wolfe." Clinton Blake, who has appeared in "The Stranger," "Top Boy" and "Sanditon," and, Maya Bartley O'Dea, "Once Upon a Riot," co-star.
Ella and the Broken Flames team recently released the accompanying trailer, and I'm sure you'll agree it's quite compelling. Special thanks to the cast and crew for their contributions to this powerful film. (Their Instagram tags follow.)
Made by @brokenflamespd for the @lucasaferrara Film Fund
▫️
Written by @totobruin
Directed by @popsella
Producer @lucasaferrara
Co-Producers @maya_bod @popsella
▫️
Starring Phoebe Campbell, @rebeccacalder_ Clinton Blake
▫️
Casting: @_zyrenka_casting_
DOP: @xeniaxpatricia
Editor: @editor_emmalie
Colourist: @chris.shaw.colour
Sound design: @_inesadriana_
Composer @gabyamblercomposer
1AD: @jameslockheart_
MUA & hair: @chiaragiannettino_art
Production design: Mahee Merica
Costume: @chloepalmerdesign
1AC: @alexjgtan
2AC: @riccardo_garofalo_
Gaffer: @leslielitin
Spark: @anbo_Wu
Script supvr: Daniel Joseph
Sound record: @rufusambler
BTS Photos: @ines_leila_hachou
Runners: @tobybeynon Fraser Dodds
Special thanks to: @izzy_meikle, @leanneladbury @focus24hire
▫️
Watch for additional updates as TWOFOLD unfolds … onto the festival circuit.
.
.
.
# # #
To view a list of Lucas's other projects, click here: https://www.imdb.com/name/nm11739610/
# # #
#lucasaferrara @brokenflamespd @popsella @maya_bod @totobruin @rebeccacalder_ #childabuse #love #abuse #sexualabuse #lossofinnocence #film #films #shortfilm #shortfilms #creatives #actors #filmmaker #filmmakers #moviemaker #moviemakers #filmmaking #moviemaking #art #relationship #relationships #power #manipulation