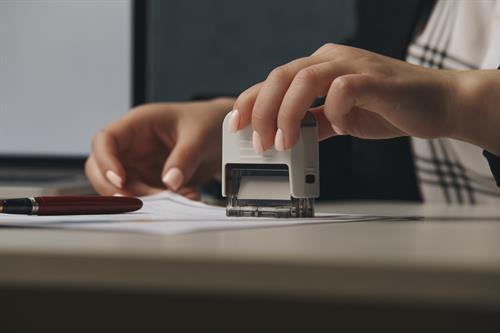 NYSBA AINT RUBBER STAMPING NEW NOTARY RULES
The New York State Bar Association (NYSBA) recently made headlines with its push to repeal the new remote-notarization rules which require notaries, for a ten-year period, to maintain a journal which lists each document that has been notarized, and the type of identification that has been provided. Additionally, electronic notaries are required to preserve a video and audio record of notarial acts performed, using technology to validate the signer's identity.
NYSBA is of the view these are needlessly cumbersome requirements, particularly for lawyers. NYSBA's President, Sherry Levin Wallach, noted that, "The record-keeping and record retention regulations are superfluous for attorneys. If these regulations are not repealed, attorneys notarizing documents in the regular course of their business should be exempt."
The Department of State will be rolling out a new system to streamline online filings and that process will allow notaries (electric and traditional, alike) to apply, renew, and update their notary commissions.
Those in need of notarization services in New York City will have to navigate the ever-changing landscape these regulations and requirements pose. Whether remote notarization remains a viable option is unclear. However, the pandemic has certainly brought about significant changes in the way many legal transactions are conducted.
As we move forward, it will be interesting to see how lawyers adapt to these modifications, and what new technologies will emerge to meet the legal industry's future challenges.
# # #
To read our prior blog post on these requirements, see: IT'S THE AGE OF THE NOTAR-E
To access the new filing system, visit http://dos.ny.gov
# # #
SOURCES
https://nysba.org/new-york-state-bar-association-wants-new-rules-for-in-person-notarization-repealed/2
https://www.law.com/newyorklawjournal/2023/03/03/ny-bar-calls-for-repeal-of-new-rules-for-in-person-notarial-acts/?slreturn=20230306164134