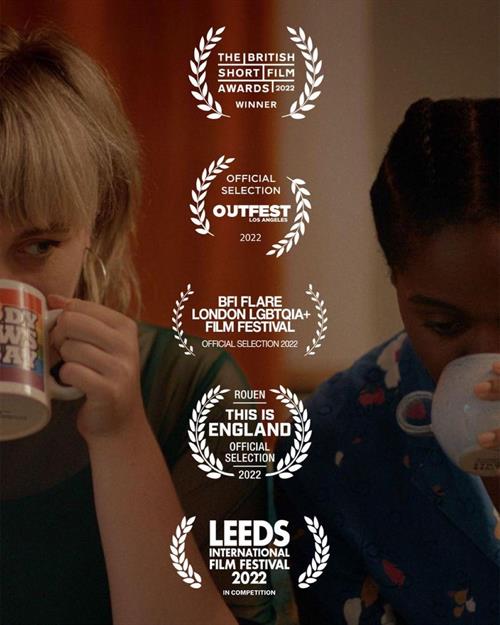 In MINUTES — a film written and directed by Liv Dowd and Alix Eve and starring Ella Dacres and Ell Potter — two neighbors fall in love. And while the relationship is first filled with excitement and joy, it slowly begins to fizzle ….
▫️
For the last year or so, the short has had an extremely successful festival run, with selections by: BFI Flare, Outfest L.A, Leeds International Festival, British Short Film Festival (winning Best British Director and nominated for Best English Short), This is England, and, Fragments Festival … to name just a few.
▫️
We're pleased to announce that you can now view the entire, award-winning film, for FREE, by using this link: https://vimeo.com/657781791
▫️
Of course, the project's success would not have been possible were it not for the work of our cast and crew. (Their Instagram tags follow.)
▫️
Starring @elladacres @potterell
Directed by @dobbyd @alixeve
Written by @alixeve @dobbyd @elladacres @potterell
Produced by @alixeve @dobbyd
In association with @lucasaferrara
DOP @laura.seward.dop
Production & Costume @emelineberoud
Editor @lornasearl
Music @franarivers
EPs Marianne Tingay @james_appleton_ @amy.dowd
Sound Design & Mixer @ryan_barbarian_green
Dialogue Edit & Mixer Alex Symeonides
Foley Isa Yousufzai & Isaac Ellis
Sound Recordist @sound_designed
1 AD @alice_k_ellis
Wardrobe & HMU @by.sabs
Prod Assist @rhea_fofana
Grade @anaginative
1 AC @pcioffi_
2 AC/Loader @lauraflackk
Gaffer @h.y.niu
Spark @viewsfromtheviewfinder
Intimacy Coord @rufaiajala
BTS photos hansofvisionz & Oseloka Obi
Catering @daycobs
Camera & lighting @cameraworks_uk
▫️
If you've got the time, why not spend some minutes … on MINUTES?
.
.
# # #
To view a list of Lucas's other projects, click here: https://www.imdb.com/name/nm11739610/
# # #
#lucasaferrara #film #films #filmmaker #actor #actors #actresses #producer #director #romance #love #relationships #filmmakers #queerfilm #shortfilm #lgbt #lgbtq #lgbtq🌈 #queerfilmmakers