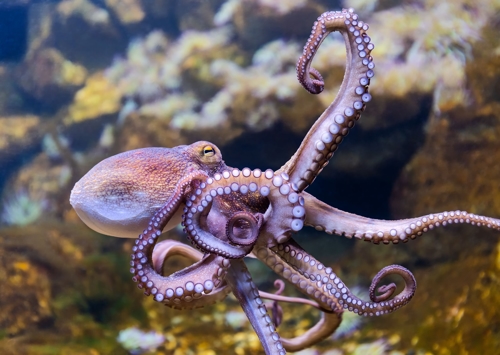 Because José Andrés, a James Beard Award-winning chef, heads ZAYTINYA, a new restaurant at the base of The Ritz-Carlton NOMAD, 25 West 28th Street (Manhattan), my friends desperately wanted to go his place. And, frankly, it ended up being a pleasant surprise. Since both the "Baba Ghannoughe," and "Mushroom Kapnista," (reviewed earlier), scored an impressive "A-," we had high hopes for the "Octopus Santorini — grilled Mediterranean octopus, marinated onions, capers, yellow split pea purée" ($23 pre-tax/tip).
▫️
Octopuses — a/k/a octopi or octopodes — are ocean creatures which sport eight arms and have large, bulbous heads. Just in case you didn't know, they have three hearts and blue blood; squirt ink to deter predators; and, because they're "boneless," can maneuver in and out of tight spaces.
▫️
And, interestingly, for some of these creatures … reproduction is a death sentence. (There are reportedly over 300 species, and about handful, including the giant pacific octopus, eat the other after sex. (How's that for an unappetizing thought?))
▫️
The problem with this dish is that it's often difficult for many kitchens to get it right. When improperly prepared, the protein can be as chewy as bubblegum. (Cooking it too quickly can result in a rubbery texture, which also isn't appealing.)
▫️
Grilled correctly, you'll find this protein tender and succulent, with a slight smoky, lobster-like flavor. And that's precisely what we got. It was an enjoyable and comforting dish.
▫️
Because some had an issue with the $28 price tag (post-tax/tip), particularly given the puny portioning, the item lost a few points, but still ended up with an extremely respectful "B+."
▫️
It may be time for you to get your arms around that.
#lucasaferrara @zaytinya @joseandresfoods @ritzcarlton @ritzcarltonnewyorknomad #mezze #food #foods #turkishfood #turkish #greek #greekfood #lebanese #lebanesefood #foodie #foodies #foodreview #foodreviews #restaurant #restaurants #manhattanfood #nyfood #nyrestaurant #joseandres #ritzcarlton #meditterean #medittereanfood #middleeasternfood #octopus #octopi #nomad #seafood #lobster