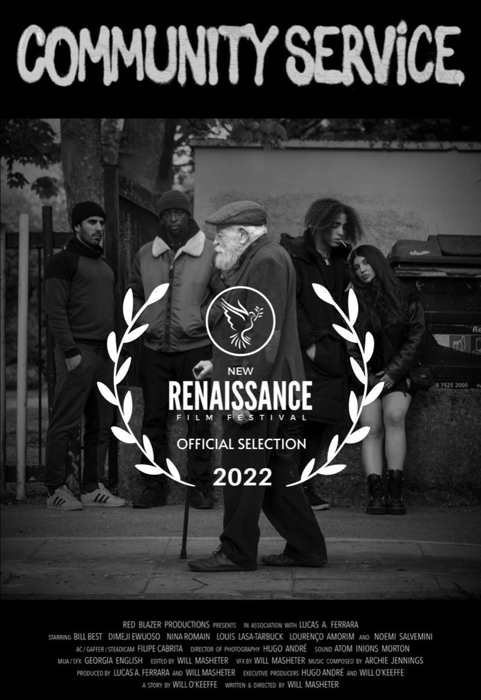 COMMUNITY SERVICE — a new drama created by Will O'Keefe and directed by Will Masheter — hopes to spark a much-needed dialogue about the difficult, and often controversial, topic of assisted suicide, and whether the terminally ill should have the right to make end-of-life decisions.
▫️
We are truly grateful that this thought-provoking work was selected to screen at NEW RENAISSANCE FILM FESTIVAL (NRFF), which will be held September 23-25, 2022, in the heart of Convent Garden (London).
▫️
According to its website, NRFF "provides a platform for outstanding independent filmmakers from around the world, to showcase their work." Their focus is "on the ARTIST, on the STORY and on building a COMMUNITY of inspiring storytellers." And to that end, they "seek out stories that are genuinely imaginative, emotional and life-affirming." And, of course, we are most honored by the selection.
▫️
For more information, please visit:
https://newrenaissancefilmfest.com/
▫️
Our sincerest thanks to NRFF, and our cast and crew. (Their Instagram tags follow.)
▫️
CAST:
Starring: Bill Best,
@dimejiewuoso
@lourenco_amorim
@_iam.noemi
@cabrita88
@louislasatarbuck
Nina Romain & Beryl
▫️
CREW:
A story by Will O'Keeffe
Written & Directed by
@will_and_film
Produced in association with
@lucasaferrara
▫️
EPs
@hugoandre_media
, Will O'Keeffe,
@will_and_film
DOP
@hugoandre_media
Grip/Gaffer/Steadicam
@cabritasteadicam
Original Score
@ajenningscomposer
Sound Recordist/Design
@atom3eq
Production Design
@louislasatarbuck
MUA/SFX
@englishrose_98
Cover Art
@palzhu
▫️
Now is that life-affirming, or what?
.
#
To view a list of some of Lucas's other projects, click here: https://www.imdb.com/name/nm11739610/
#
#lucasaferrara
#suicide
#filmmakers
#assistedsuicide
#senior
#seniorcitizen
#death
#deathwithdignity
#lifechoice
#terminalillness
#terminallyill
#producer
#euthanasia
#murder
#seniors
#dying
#freewill
#endoflife
#endoflifeplanning
#actor
#actors
#director
#directors
#film
#shortfilm
#shortfilms
#filmmaker
#filmmaking