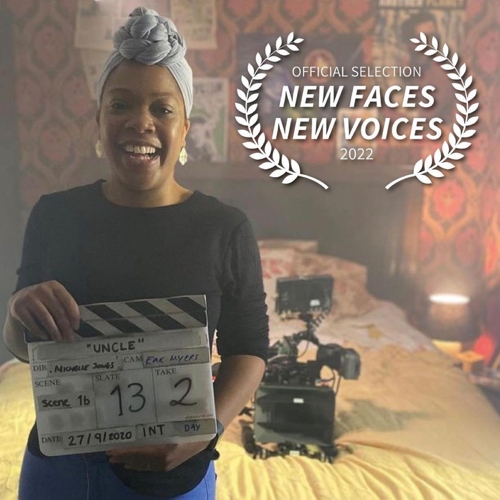 Written and directed by Michelle Jones, UNCLE is the true story of a man murdered while in government custody. (The officers involved in the killing were never criminally charged nor suffered any disciplinary repercussions, leaving the surviving family members without justice or closure.)
▫️
Set in '90s London, this short film shares the perspective of a teenage girl as she learns of her uncle's passing, and we watch as an "emotional roller-coaster" unfolds on the day of his funeral.
▫️
We're pleased to announce that UNCLE was selected to screen at the 4th Annual New Faces New Voices Film Festival, which is taking place September 13-15, 2022, at the Alamo Drafthouse Cinema, in Brooklyn. To learn more about this "bold international film festival committed to empowering diverse voices and underrepresented filmmakers," click here: https://filmfreeway.com/NewFacesNewVoices. For tickets to the screening, please visit: http://katrafilmseries.com/tickets/
▫️
We extend our thanks to the event's organizers, and congratulate our cast and crew:
▫️
Written & Directed by @iammichjones
Producers @adialfa_official @zinaalfa @iammichjones
Executive Producers @lucasaferrara @burridgesam @colajanneti
Director of Photography @ericmyers_dp
1st AD @muriel_effulgent
Production & Costume Design @artvomit
Art Dept @artvomitstudios - @roisino_ @lorahmc @maeva_margaret
Lighting Department @lightingbyjoe
Production Assistant @charliesamuel__
Hair & Makeup @adialfa_official
Actress @joylizzieee
Editor @reiffgskl
Animator @jcartify
Colourist @thevin.kumar
Sound @alexshesha
Photography @rackzmedia
In association with @mediaworx365
Special thanks to @salt.tv
▫️
Did I hear someone say, UNCLE?
#
To view a list of some of Lucas's other projects, click here: https://www.imdb.com/name/nm11739610/
#
#lucasaferrara @uncleshortfilm #film #films #discrimination #murder #policeabuse #drama #drama #shortfilm #shortfilms #movie #movies #discrimination #blm #blacklivesmatter #blackfilmmaker #blackfilmmakers #moviemaker #moviemakers #director #femaledirector #uncle #femalewriter #deathincustody #filmfestivals #movie #deathinpolicecustody #filmfestival #policemisconduct