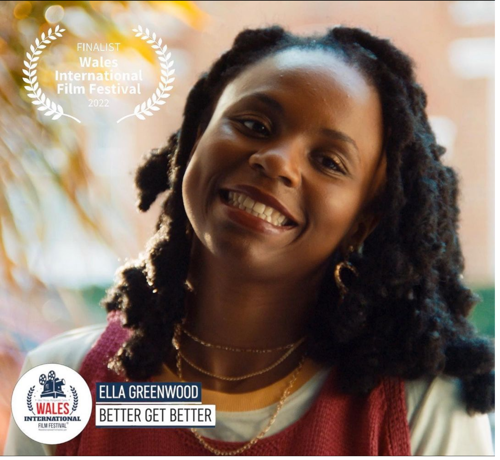 Elisha Applebaum — known for playing "Musa" in the hit Netflix series "Fate: The Winx Saga" — stars alongside Aliyah Odoffin, Nikkita Chadha, and Daisy Jelley, in BETTER GET BETTER, a short film written and directed by Ella Greenwood, a 2021 Forbes "'30 Under 30 Honoree.'"
▫️
Unfortunately, despite all the advances made over the decades, there still are differences in the way people perceive physical and mental challenges. And BETTER GET BETTER sheds light on that lingering disparity.
▫️
We're so honored to announce that our project is not only screening at WALES INTERNATIONAL FILM FESTIVAL -- which is being held on September 15 - 16, 2022 -- but has been designated a FINALIST.
For additional information, please visit: https://walesfilmfestival.com/
▫️
Special thanks to the event's organizers for this honor, and our congratulations to the cast and crew on this achievement. (Their Instagram tags follow.)
▫️
Writer/director: @popsella
Producers: @lucasaferrara @brokenflamespd
Asst Producer: @maya_bod
Cast: @aliy3ah @elisha_applebaum @nikkitachadha @daisyjelley
Editor: @editoremmalie
Composer: @gabyamblercomposer
Sound Design: @_inesadriana_
Colourist: @chris.shaw.colour
DOP: @xeniaxpatricia
1 AC: @alexjgtan
2 AC: @leslieliiin
1 AD: @rose_esme_lucas
Covid superv'r: @giorgia_neill
Runner: @jameslockheart_
Cast PA: @_bellaburns_
Costume: @torihitchens_costume
Gaffer: @et.ng_
MUA & hair: morganemakeup11
Prod. design: @ceciliahahaha
Art Assts: @safitobi & Lucia Hartmann
Script Supvr: @sam_morris987
Sound Record: @adam_hurley
Spark: @_cemdemirer_
▫️
As they say in Welsh, "Pob lwc i chi!"
▫️
(Good luck!)
.
# # #
To view a list of some of Lucas's other projects, click here: https://www.imdb.com/name/nm11739610/.
# # #
#lucasaferrara #filmfestival #drama #mentalhealth #screenplay #drama #movie #movies #film #films #director #directors #directing #actor #actors #actress #actresses #filmmaking #filmmaker #filmmakers #moviemaking #shortfilm #shortfilms #britishfilm #britishfilms #britishfilmmakers #femalewriter #femaledirector