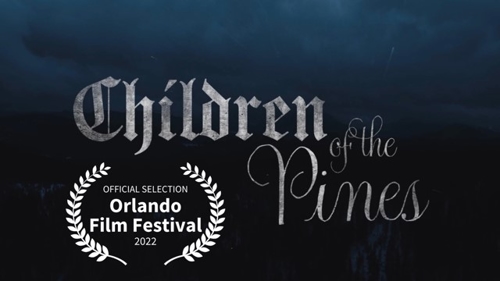 If you're among the 7 out of 10 people who not only believe in the "devil," but in a fiery — or otherwise unpleasant — afterlife called "hell," then you're going to love
CHILDREN OF THE PINES,
(COTP), a new feature-length film written and directed by 20-year-old JOSHUA MORGAN.
▫️
In this movie, Riley returns home from a school break to find her former boyfriend and her parents engaged in a bizarre demonic ritual aimed at cleansing them of their deep-rooted family dysfunction. (Of course, that "cleansing" comes with a hitch ….)
▫️
If you're ready for some spine-chilling suspense, then you're in luck.
COTP
has been selected to screen at the
ORLANDO FILM FESTIVAL
, (OFF), which is scheduled from October 27 – November 3, 2022. For additional info, visit:
https://www.offvirtual.com/
▫️
Since this event is widely recognized as one of the Top 25 "Coolest Film Festivals in the World," we're particularly honored by the selection. We extend our thanks not only to
OFF
, but to the entire
COTP
team for their ghoulish work here. (Their Instagram tags follow.)
▫️
CAST
@itsktap
@vasprovotakisoffical
@daniellebowman98
@richcohnlee
@sylandmom
@mateotennysontaylor
@seko.ryo
@Vivian_joy.hunter
@joshuamorganfilm
▫️
CREW
Director/writer
@joshuamorganfilm
Produced In association with
@lucasaferrara
Producers:
@lucasaferrara
@daniellebowman98
@Ericr.Polins
@jennalskeen
Line Prod
@daniellebowman98
Composer
@sunerosewagner
DOP
@b3nbach
1AD
@_.madii.Marie._
1AC
@Everypedal
2AC
@innodrame
Editor Joseph Sandoval
Casting
@hm.Lehrer
Casting Ass't
@savsaffold
2nd unit Dir/storyboard/Script Edit/AP
@coleblasko
Script Super
@Stillzzzz
Art
@k.vazq
Sound Mix
@michaeldgibson1988
Gaffer
@NathanLukeMiles
Drone Op. Zee Jay Smart
Prod Ass'ts
@michelle_christine5
, Frances Elizabeth Rausch
@coleblasko
▫️
Ready to get spooked? Turn us ON, at
OFF
!
.
.
# # #
To view a list of some of Lucas's other projects, click here: LUCAS'S IMDb LISTING
# # # #
#horror #horrorfilm #film #films #feature #movie #movies #supernatural #demon #demons #demonic #devil #devilworship #director #filmmaker #filmmaking #filmmakers #thriller #actor #actors #creatives #storytelling #lucasaferrara