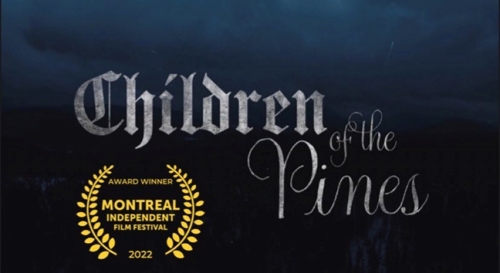 Even though "evil" has a number of definitions and forms, for many, it's an otherworldly, mystical force which spurs us to do wrong. With roots dating back millennia, its personification is known by such names as, "Beelzebub," "Lucifer," "Mephistopheles," and "Satan" -- with physical descriptions often including horns and hooves.
Of course, that's perfect fodder for a story like CHILDREN OF THE PINES, a new feature-length horror movie written and directed by 20-year-old JOSHUA MORGAN. In this film, our young protagonist returns home, during a school break, only to find her parents and former boyfriend engaged in bizarre ritual. Will she be able to escape their grasp?
Well, if you're just dying to find out, our film has been selected to screen at the Montreal Independent Film Festival, which is slated to run from October 20-23, 2022. For additional info, CLICK HERE
Our thanks to MIFF for this honor, and to our COTP team for their devilish work here. (Their Instagram tags follow.)
CAST
@itsktap @vasprovotakisoffical @daniellebowman98 @richcohnlee @sylandmom @mateotennysontaylor @seko.ryo @Vivian_joy.hunter @joshuamorganfilm
▫️
CREW
Director/writer @joshuamorganfilm
Produced In association with @lucasaferrara
Producers: @lucasaferrara @daniellebowman98 @Ericr.Polins @jennalskeen
Line Prod @daniellebowman98
Composer @sunerosewagner
DOP @b3nbach
1AD @_.madii.Marie._
1AC @Everypedal
2AC @innodrame
Editor Joseph Sandoval
Casting @hm.Lehrer
Casting Ass't @savsaffold
2nd unit Dir/storyboard/Script Edit/AP @coleblasko
Script Super @Stillzzzz
Art @k.vazq
Sound Mix @michaeldgibson1988
Gaffer @NathanLukeMiles
Drone Op. Zee Jay Smart
Prod Ass'ts @michelle_christine5, Frances Elizabeth Rausch @coleblasko
▫️
La Cité des Saints vous attend!
# # #
To view a list of some of Lucas's other projects, click here: LUCAS'S IMDb LISTING
# # # #
#horror #horrorfilm #film #films #feature #movie #movies #supernatural #demon #demons #demonic #devil #devilworship #director #filmmaker #filmmaking #filmmakers #thriller #actor #actors #creatives #storytelling #lucasaferrara