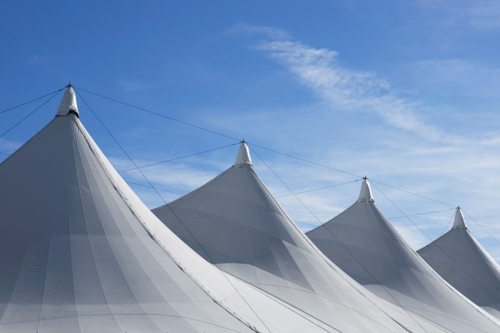 Housing of Asylum Seekers Called a "Crisis"
Despite sharp criticism from human rights activists and other interested parties, New York City Mayor Eric Adams recently defended his plan to temporarily house people seeking asylum in tent shelters dubbed "humanitarian emergency response and relief centers."
By way of background, in early September, the mayor's office announced this proposal to address what was described as a "humanitarian crisis," perpetuated by border state governors sending asylum-seeking migrants to the area, and would only be implemented until such time as more stable housing could be secured.
Opponents argue that these "centers" run afoul of the local "right to shelter" mandate, established by a 1981 agreement reached in a class-action suit filed against NYC. That settlement provides, among other things, that anyone who seeks shelter is entitled to same and sets forth minimum standards. And while details about the physical arrangements are scant, critics of City Hall's proposal point to photographs which show that, among other things, the cots are set to be spaced less than three feet apart, in violation of the governing mandates.
Audrey Cooper, the editor-in-chief of WNYC and Gothamist lamented that, "[t]he mayor's brief statement announcing these 'relief centers' left more questions than answers, and yet his paid spokespeople have refused to be quoted about how this plan will work." Ms. Cooper was referring to the mayor's office's unorthodox decision to host a press briefing regarding the plan but prohibiting participants from directly quoting or identifying any administration officials at the briefing. (WNYC/Gothamist refused to participate given those restrictions.)
The mayor has pushed back and maintains that while the City is complying with its right to shelter obligations, it is now facing a crisis, noting that "no one thought that we would be receiving over 13,000 people for housing." Mayor Adams then compared the asylum crisis with the COVID pandemic, arguing that the emergency shelters are akin to the emergency hospitals which were deployed when the existing healthcare facilities were overwhelmed with patients. The mayor further accused his critics of conflating two discrete issues: the City's compliance with its right to shelter obligations and its handling of the migrant crisis.
The Legal Aid Society and the Coalition for the Homeless issued a joint statement responding to the mayor's comments and insisted that shelter requirements be respected. The statement further indicated that the administration has assured those organizations that asylum seekers will have the ability to enter the Department of Homeless Services shelter system, at any time, and called on the City Council to relieve pressure on the shelter system by reforming various housing voucher programs to get more displaced individuals into long-term housing.
While construction of the first tent shelter, which was originally slated to be in the Bronx, began in late September, the city recently announced a relocation to Randall's Island (after the original site suffered from some flooding). It also remains unclear whether these facilities will face legal challenges before becoming fully operational.
Sources:
https://gothamist.com/news/mayor-defends-plan-to-build-asylum-seeker-tent-shelter-in-the-bronx
https://gothamist.com/news/mayors-asylum-seeker-tent-cities-may-violate-nycs-right-to-shelter