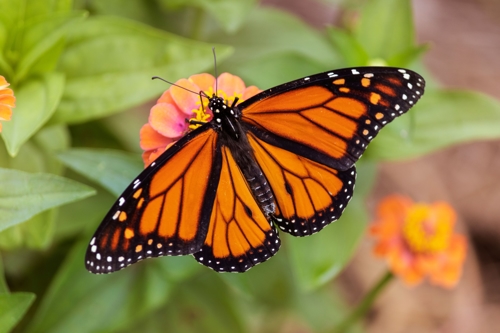 A friend wanted to go Casa Monarca, a "Mexican Restaurant & Tequila Bar," located at 2980 N Federal Hwy, Fort Lauderdale, FL.
▫️
Now the place is named after the Monarch Butterfly, a species which sports two pairs of bright orange-red wings which display black veins and white spots along the edges. While visually stunning, these creatures also happen to be poisonous. [Why anyone would want to name a restaurant after a deadly butterfly baffled me. But once our food orders began arriving at our table, the answer became patently obvious.]
▫️
We started with the "House Made Guacamole" ($9.50, before tax/tip). Now it's widely believed that the Aztecs of southern Mexico came up with the idea of mashing avocados, or "āhuacatl," in stone bowls and creating a sauce they called "āhuacamolli."
▫️
While modern-day recipes vary, you only need to peel and mash some ripened avocados, then add such things like chopped onions, tomatoes, cilantro, jalapenos (or paprika), lime juice, garlic, and salt to the mix. Since it's not a terribly complex process, and is often assembled table-side, can you imagine our surprise when we were informed that our "not spicy" request couldn't be accommodated because the item was already "pre-made?" (Huh?)
▫️
That aside, you usually want to see a smooth and creamy texture, and experience a "grassy," "nutty," flavor that isn't overpowered by any of the accompanying ingredients. But that's not what we got. Ours came out salty, and slightly watery. Because it struck us as having a commercial, restaurant-supply quality, this item rated a lowly "C-." (In my opinion, an "F" was deserved here.)
▫️
A guest humorously expressed his disappointment this way: "They can kiss my Hass."
.
.
#lucasaferrara
@casamonarcafl
#mexican
#mexicanfood
#mexicancuisine
#mexicandish
#avocado
#avocados
#guac
#guacamole
#food
#foods
#foodreview
#foodreviews
#foodcritic
#southfloridafood
#southfloridarestaurant
#fortlauderdale
#monarchbutterfly
#fortlauderdale
#fortlauderdalerestaurant
#restaurant
#restaurants
#floridarestaurant
#butterflies
#monarca
#floridarestaurants
#mexicanrestaurant