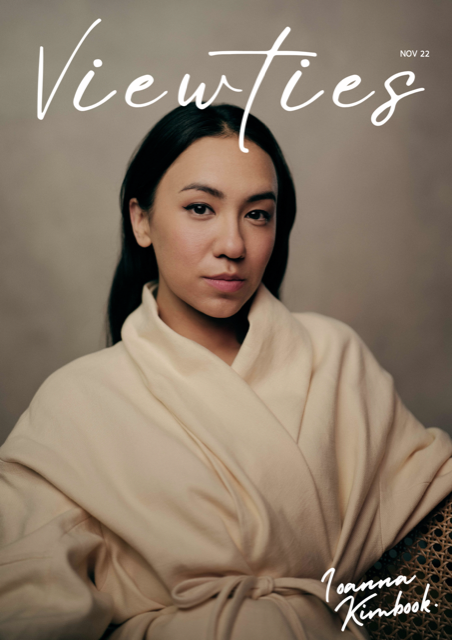 Highlighting the achievements of the world's creatives, VIEWTIES, an e-magazine founded by Vanesa Miraglia, celebrates "art and value of talent … one artist at a time."
Vanesa recently sat with Ioanna Kimbrook, a UK-based actress, who has not only won a "Best Actress" award for her role in the film "Bibimbap for One," but has also co-starred with John Malkovich in the stage production of David Mamet's "Bitter Wheat." A few edited snippets from that exclusive interview follow:
"V: What has helped forge your authenticity?
IOANNA: Absolutely everything in my life ... everything and anything becomes my inspiration. My decision to commit to this craft made me look at everything I interact with …. I collect things every single day from countless interactions with people, nature, films, stories, songs, food, clothes I find - it's endless ….
V: On stage, you co-starred in David Mamet's 'Bitter Wheat' with John Malkovich …. Tell me about this time in your career ….
IOANNA: I was lucky to be working with an incredible cast and with David. It was very surreal because I remember 'Oleanna' being the first play I ever read and now here I was with the man himself supporting me through my first job. It was a rich experience on many levels. I was treated with so much love and respect by everyone involved. I remember walking into rehearsals the first day and it was just me and John that morning, and the way in which he spoke to me made me feel as though I was in the industry for as long as he was. I felt so safe and that allowed me to discover a new layer of confidence and belief in myself …."
To read more, visit: https://viewties.co.uk/wp-content/uploads/2022/11/IOANNA-KIMBOOK-ISSUE.pdf ... or... here: IOANNA KIMBROOK PROFILE
All eyes are on Ioanna (… and Vanesa, too)!
# # #
You can view a list of Lucas's film projects here: https://www.imdb.com/name/nm11739610/
# # #
#lucasaferrara #interview #interviews #profile #writers #profiles #director #directors #film #films #movie #movies #actor #actors #acting #moviemaking #creative #actress #creatives #art #arts #shortfilm #play #plays #bitterwheat #davidmamet #johnmalkovich