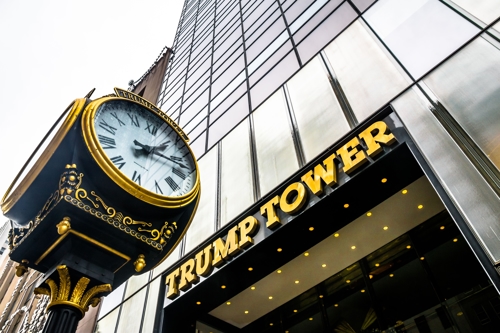 BRONX JURY MAY BEAT TRUMP UP
The British daily newspaper, The Guardian, recently reported on yet another of Trump's many legal battles.  While most are playing out in the federal court system, this one, however, will be heard by a New York State Supreme Court jury up in the The Bronx.
The case -- brought by Efrain Galicia and others who describe themselves as "human rights activists of Mexican origin" -- claims that they were attacked outside of Trump Tower by The Donald's security guards, "during a peaceful protest in September 2015."
Allegedly damaged by the incident, the group seeks, among other things, exemplary and punitive damages and to recoup a monetary award. And to that end, they assert in their pleading, as follows:
54. The assaults and batteries by defendants … were committed and engaged in within the scope and course of their employment by the Trump Employer Defendants and with the conscious approval and at the express or implied direction of the Trump Employer Defendants, who are responsible for and liable for such wrongful acts and conduct and are liable for those damages and injuries suffered by plaintiffs.
55. As a direct and proximate cause of defendants' multiple unlawful assaults and batteries upon plaintiffs Galicia, Cruz and Perez, plaintiffs were caused to suffer and experience physical and emotional pain, injuries, discomfort, embarrassment, and humiliation, both past and future.
When asked for his take on Trump's exposure in the litigation, Prof. Randolph McLaughlin, co-chair of Newman Ferrara's Civil Rights Practice Group, candidly informed reporter Victoria Bekiempis that the former President likely faced considerable hurdles. "I'm a civil rights lawyer. If I can get a case into the Bronx, I'll move heaven and earth," said McLaughlin. "Bronx juries, they engage in Robinhood-ism. They take from the rich and give to the rest of us – their verdicts are always generally right at the ceiling."
McLaughlin continued, "Trump, as much as he is loved in certain corners of the country, he is not loved in the Bronx."
To read the full Guardian article, please visit: https://www.theguardian.com/us-news/2022/oct/30/donald-trump-lawsuit-bronx-jury-selection
You can also read Yahoo's iteration of the Guardian's report here:  https://www.yahoo.com/lifestyle/lawyers-slam-donald-trump-video-000021308.html
# # #
SOURCE
Galicia v. Trump – First Amended Complaint
# # #
UPDATE:  According to media reports, this case has been settled.  (Terms of the settlement were not disclosed.)