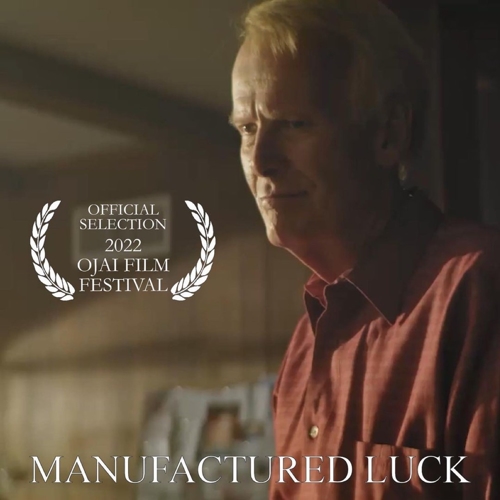 The Ojai Film Festival's mission is to show movies that "in some way uplift people or help audiences feel good about being members of the human race or encourage them to live meaningful lives inspired by the examples of others."
▫️
"Enriching The Human Spirit Through Film" is its guiding principle and, since 2000, this nonprofit group has provided audiences "opportunities to see groundbreaking work that would otherwise be inaccessible," and afforded filmmakers access to enthusiastic audiences and industry professionals.
▫️
We're honored that MANUFACTURED LUCK — a short written and directed by Kevin Keck, an East Tennessee-based creative — has been selected to screen at this year's event, which is being held from November 3-7 (live, @ojai_art_center), 8-20 (virtual)).
▫️
Blending "traditional Appalachian storytelling with film," we're introduced to a young girl and her grandfather, who happens to have an affinity for contests, church raffles, and all things sweepstakes. And we follow their exploits as these "two introverts from vastly different generations try to bond."
▫️
For more info, please visit: https://ojaifilmfestival.com/
▫️
Our thanks to everyone at OJAI and to our amazing cast and crew. (Their Instagram tags follow.)
▫️
CREW:
@b_evans24 - Producer, Brandon Evans
@tyleroxendine - Producer, Tyler Oxendine
@kevinckeck - Director, Kevin Keck
@_adamchapman - Director of Photography, Adam Chapman
@carrieferrelli - Production Design, Carrie Ferrelli
chelseyspaige - Costume Design, Chelsey Paige
@thatvintagedarling - Editor, Breeana Kovelman
@yeemeister, @truepeaksound - Sound Design, Shaun Yee and True Peak Soundworks
@robertmai107 - Composer, Robert Mai
@drnewport - 1st Ass't Director, Hampton Newport
▫️
CAST:
@peteman.7 - Jim, Peter Aylward; Ash, Azra Basile; @ameliabartlett - Lilly, Amelia Bartlett
▫️
Why not enrich us with your presence?
.
#
To view a list of Lucas's other projects, click here: https://www.imdb.com/name/nm11739610/
#
#lucasaferrara #luck #lottery #lotteries #fate #destiny #odds #shortfilm #love #shortfilms #film #films #indiefilm #indiefilms #granddad #grandfather #grandkids #director #filmmaker #filmmakers #filmmaking #lottery #sweepstakes #contest #contests #raffle #family