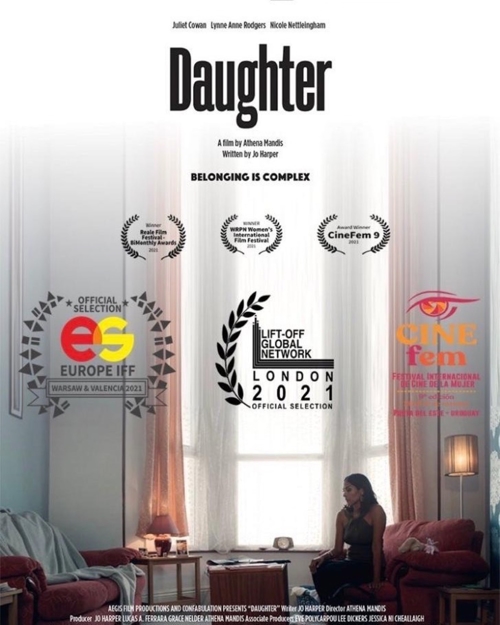 On Saturday, November 26, you'll find the SOUTH COAST FILM FESTIVAL at the Stables Theatre & Arts Center, in the Old Town of Hastings, East Sussex (UK).
▫️
Now in its third year, its mission is to "create a platform for our filmmakers to be seen, but more importantly, get them the industry exposure to help sustain their craft for many years to come."
▫️
We're pleased to announce that DAUGHTER — a short film written by Jo Harper and directed by Athena Mandis — will be among the projects screened at this year's festivities. And in this story, we witness the emotional roller coaster our protagonist experiences as she meets her birth mother (and stepsister) for the first time.
▫️
To secure tickets for the event (which begins at 11 AM; awards presentations at 7 PM), please visit: https://stablestheatre.co.uk/south-coast-film-festival/
▫️
Our thanks to SCFF for the selection, and to our entire team for their unwavering commitment here. (Their Instagram tags follow.)
▫️
A film by Aegis Film Productions and Confabulation Films @confabfilms
Starring: Juliet Cowan @julietrachelcowan LA Rodgers @lynneannerodgers Nicole Nettleingham @nicole_haynes__ Isla Holmes
Producer Grace Nelder @gracenelder, @lucasaferrara
Writer Jo Harper @joharperdoyle
Director Athena Mandis @athena_mandis
APs Eve Polycarpou @polycarpoueve, Lee Dickers, Jessica Ni Cheallaigh
Casting Janis Jaffa @janishjaffa
DOP Babak Jani @babak_jani
Prod Design Ayla Ash @ayla_mash
Music Sam Rankin
Editor Yan Miles
Sound Mix Rebeka Anderson
Colourist Chris Shaw
Poster Tanja Zogg @tanja.corinne
Trailer Paul Shammasian @paul_shammasian
1AD Patricia Sommer pjsmin
Prod Assist Aimee Ellerto aimeeellerton
Covid Spvr Emma Nelder @emma_nelder
1AC Iona Greaves @iona.greaves
Gaffer Maya Ou @mayaziyuou
Spark Mitoshka Alkova @mitoshkaa
2AC/ Stills Katherine Hoad @katherine_audrey_hoad
HMUA Camryn Richards @camrynrichards_
▫️
This is my favorite DAUGHTER.
#
To view a list of Lucas's other projects, click here: https://www.imdb.com/name/nm11739610/
#
.
DON'T MISS THE WORLD PREMIERE OF JO HARPER'S PLAY: THE BEACH HOUSE
In previews at Park Theatre [13 Clifton Terrace, Finsbury Park, London N4 3JP, United Kingdom]: February 15-18, 2023
Opening night: Monday, February 20, 2023
More here: THE BEACH HOUSE
.
.
.
#adoption #adoptions #identity #birthparent #mother #mothers #parenting #relationship #relationships #motherdaughter #film #films #shortfilm #actor #actors #actresses #filmmaker #filmmakers #filmmaking #motherhood #lucasaferrara