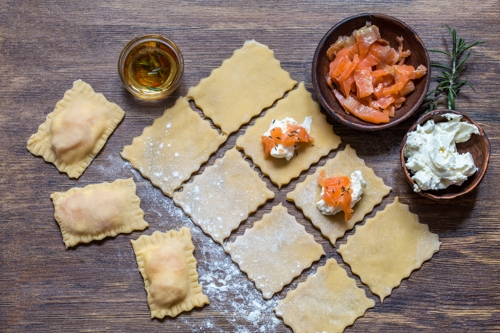 So, there we were, at Via Emilia Garden, an Italian restaurant located at 3500 N. Miami Avenue, Miami, Florida. And according to its website, all their pastas "are homemade in the dining room by our Sfoglinas, who daily prepare Ravioli, Gnocchi, Tagliatelle and other typical pastas of the Emilia Romagna region."
▫️
On the day we visited, we didn't encounter anyone prepping the night's fare, nor did we observe women with aprons or rolling pins, but it's probably best that we didn't, as the pastas were an utter disappointment.
▫️
When we asked about the "Ravioli del Giorno," we were informed that it was "Ravioli di Salmone Con Crema Al Limone." ($28) We thought we were going to get salmon filled dumplings accompanied by a finely balanced lemon cream sauce. But, alas, that wasn't what we got.
▫️
While recipes vary, you'll often find heavy cream, lemon juice, parmesan cheese, parsley, garlic, salt/pepper used to create this sauce. Interestingly, even though this version came out lighter than we anticipated, we sensed none of the citrus. And the ravioli — stuffed with salmon and ricotta cheese — disappointed. It tasty fishy … but not of salmon … if you catch my drift. And the filling had a tough, curdy consistency that made nibbling on the pasta exceedingly unpleasant. Given those lapses, and because $35 (approx.; post- tax/tip) was way too much to drop for a dastardly dismal dumpling dish, this offering netted an "F."
▫️
(Did you notice that I scaled back the fish puns there?)

.
.

#foodreview #foodreviews #restaurant #restaurants #lucasaferrara #food #foods #miami #miamifood #miamirestaurant #miamirestaurants #foodcritique #italianfood #italianfoods #italianrestaurant #lemonsauce #italianrestaurants #fish #pasta #ravioli #salmon