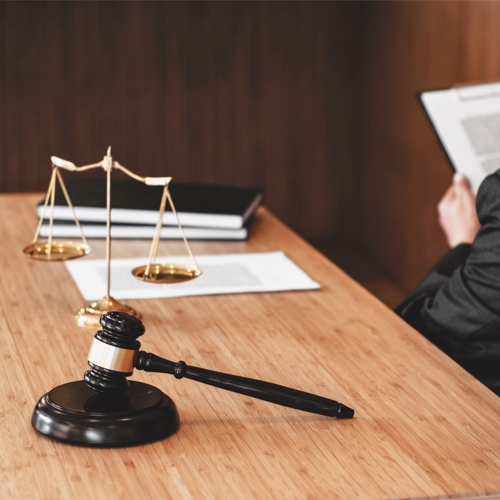 Court and providers are stretched thin
New York City's Right to Counsel law was touted as a boon for some tenants facing eviction. The policy, expanded city-wide last summer, guarantees certain renters earning below 200% of the federal poverty line access to free legal representation. But now, those tenants are struggling to find a lawyer.
After COVID-19 restrictions were lifted in January, the city's housing courts saw a flurry of activity—with pending eviction cases resuming, and new ones being filed. And, according to a recent story released by Law360, (like below), that has apparently overwhelmed tenant-attorneys and legal service organizations.
According to the Office of the Court Administration (OCA), since the beginning of this year, nearly 200 tenants in the Bronx, alone, have had their eviction cases adjourned because their assigned attorney was unavailable to make an appearance. "That's because we're down 15 lawyers in the Bronx," said Raun Rasmussen, executive director of Legal Services NYC, one of the organizations tasked with providing legal representation under the Right to Counsel program. "We're hoping to resume full intake next month."
Rasmussen is also hopeful that the OCA will implement measures to alleviate the caseload, by granting longer adjournments in eviction cases, for example. Another idea being proposed is for the OCA to weed out superfluous, discontinued, or defective cases before they reach an intake calendar.
OCA spokesperson Lucian Chalfen acknowledged the problem and said that his team was trying to figure out a way to prescreen cases by contacting landlords "without an additional burden to respondents [tenants], and without too much work for court staff," adding that there is "no workable plan yet, but we would like to do it if we can." The proposal for four-to-six-week adjournments is still "under discussion with no decisions yet," noted Chalfen.
Initially, the OCA was unwilling to adjust court calendars, and advised attorneys and legal service organizations to appeal to New York City's Office of Civil Justice (OCJ)—the agency contracting with providers to implement the right to counsel. More recently, however, the OCA met with the OCJ to identify a solution, Chalfen advised. While Rasmussen is heartened by that news, he believes more needs to be done. "We're not fully ramped up, is the bottom line," said Rasmussen. "So we need more time to build our staffing to address the need. We are asking the court to slow down on the processing of cases … There's no other way we can see to give all of the tenants who are in Housing Court the time to be hooked up with a lawyer."
Pro-landlord groups also see the benefit to tenants having a right to counsel. "[I]t helps us settle the matters knowing both sides are represented," said one landlord attorney. Owners, however, are less enthusiastic about the suggestion that cases be weeded out based on technicalities. "Knocking cases out on service errors, they will have to bring a new case the next day," said the attorney. "It wouldn't benefit the tenants because the same problem they had in the first place will still be there. You just re-serve the papers."
SOURCE (REQUIRES SUBSCRIPTION) - https://www.law360.com/realestate/articles/1476782/nyc-housing-court-begins-to-tackle-caseload-concerns-