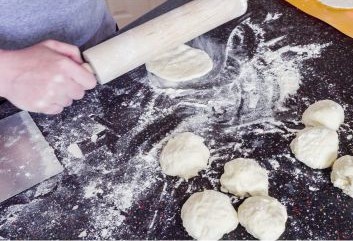 Our waiter at MOREA — a new "Mediterranean-inspired restaurant and bar" at the base of the "Paramount" condo complex (at 701 North Ft. Lauderdale Beach Blvd) in Fort Lauderdale — really liked the flatbreads. And of the three on the menu, TRUFFLE FLATBREAD ($18), PROSCIUTTO + SOPRESATTA ($22), and FIG + GORGONZOLA DOLCE ($18), he suggested we go with that last one, which came with preserved fig, baby arugula and candied walnuts.
Flatbreads are reportedly the most widely consumed bread category in the world. Some 1.5 billion people consume them as a food staple, with places like Azerbaijan, Egypt, Iran, and Kazakhstan, tallying in some 130 kg (about 287 lbs.) per person, per year. (In Iran, flatbreads reportedly represent over 50% of the daily energy requirements.)
This item can be made with or without yeast, but a small amount is needed for the "rise," particularly if you're looking for something like a thinner, flat-crust pizza. (Like we were.) We were also enticed when our server told us the dough was "rolled in-house."
And as for the toppings, bet you didn't know that, back in the 16th century, the Spaniards introduced figs to California – which currently produces 100% of the U.S.'s dried variety and 98% of the fresh kind. These "inverted flowers" have more fiber than prunes, more potassium than bananas, and are characterized by their honey-like taste (with a hint of berries).
Even though it arrived with a nice, thin, crispy, crust, the sweetness of the additional ingredients overwhelmed. They lacked any subtlety. It was as if someone had dumped cups of sugar onto each slice. Because we found that sensation totally unenjoyable, we rated it an "F" … as in "funky folly."
While the dilapidated condition of the serving board was unacceptably gross and factored into the score, what's paramount … is that you avoid this faulty, figgy flatbread.
.
.
#lucasaferrara #mediterraneanfood #mediterraneanrestaurant #restaurant #restaurants #food #foods #foodcritic #fortlauderdalerestaurant #foodie #foodies #foodreview #foodreviews #bread #breads #flatbread #fig #figs #flatbreads #pizza #pizzas