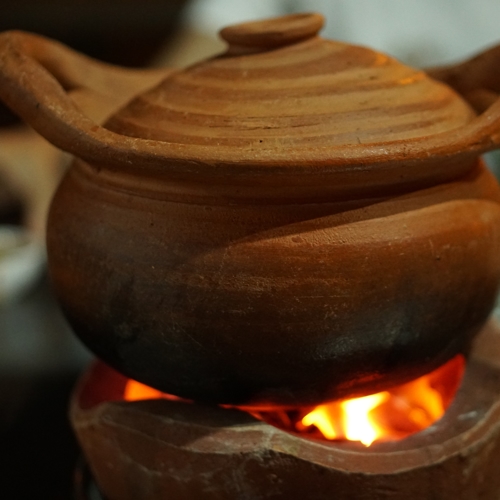 Each year, here in the United States, some 950 million rotisserie chickens are sold. (That's about 3 per person.)
▫️
And most food experts are of the view it's not the best thing for humans to eat, because of all the additives – like sugar, MSG and carrageenan, and large amounts of sodium – that are used to make the meat moist and tasty. Some retailers offer versions which contain as much as 550 mg of sodium per 3-ounce serving—that's about nine times more than a chicken roasted without salt and about a quarter of the amount of sodium adults should have in a day (2,300 mg).
▫️
It's also recommended that you avoid the skin – as it's high in saturated fat, which can increase LDL cholesterol levels, and heightens the risk of cardiovascular disease. Otherwise, the white and dark meat are good sources of vitamins and minerals including B vitamins, selenium, zinc, copper and phosphorus, and the dark meat provides a good source of iron (twice that of white meat).
▫️
While dining at Morea -- a new "Mediterranean-inspired restaurant and bar" at the base of the "Paramount" condo complex (at 701 North Ft. Lauderdale Beach Blvd) in Fort Lauderdale, the "Clay Pot Organic Chicken -- passion fruit glaze, roasted garlic, lemon" ($28) – caught our eye.
▫️
Now proteins cooked in a clay pot are supposed to be succulent, because the slow cooking allows the flavors to slowly build up, and for the spices to penetrate more deeply. (And apparently the cookware imparts calcium, magnesium, iron, phosphorus, sulfur, and many other minerals.)
▫️
Unfortunately, the chicken we received had a supermarket rotisserie kind of look and taste. Since we could have picked one up for a whole lot cheaper than the $28 -- BEFORE tax and tip we paid here -- this clunky "clay" cooked chicken scored a … "C."
▫️
I don't know about you, but I'm tired of clucking about this dish.
.
.
#lucasaferrara
#mediterraneanfood
#organicchicken
#mediterraneanrestaurant
#restaurant
#restaurants
#food
#foods
#foodcritic
#fortlauderdalerestaurant
#foodie
#foodies
#foodreview
#foodreviews
#claypot
#claypots
#chicken
#rotisserie
#rotisseriechicken