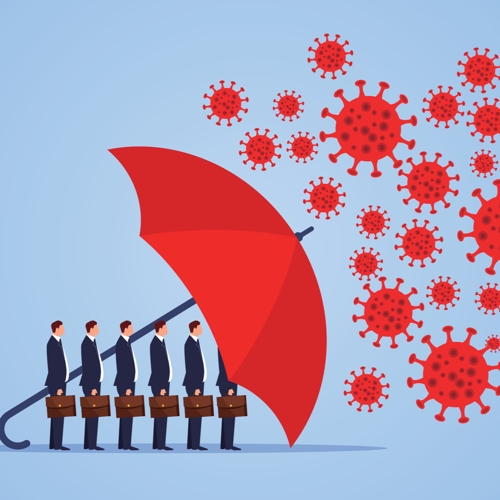 After the start of the Covid pandemic, we began to receive leases containing Covid-related language. Most New York commercial leases already contain so-called "force majeure provisions" -- which require that tenants pay their rent if their landlords cannot carry out their obligations for reasons beyond their control. The apparent purpose of the Covid-related language was to clarify that tenants would have to pay their rent even if they could not use their premises due to the pandemic, including laws which emanated as a result. Now that scientists believe Covid may be endemic, tenants should continue to expect to see such language in their leases.

Below we have provided some typical force majeure provisions, along with "pro-landlord" and "pro-tenant" Covid-related clauses.

The "pro-landlord" provisions contain language both providing that there shall be no rent abatement due to Covid and waiving the tenant's right to rent protections from Covid-related statutes.

The "pro-tenant" provisions provide tenants with rent abatements due to Covid-related disruptions, as well as the right to close down and abate rent, fully or in part, during any period that Covid restrictions have been implemented.

These Covid-related provisions are obviously subject to revision based on negotiations between the parties. For example, the parties can agree on specific time deadlines and standards for abatements, periods before which abatements become effective, abatement carve-outs, and lease termination rights.

Typical Force Majeure Provisions:
This lease and the obligation of Tenant to pay rent hereunder and perform all of the other covenants and agreements hereunder on part of Tenant to be performed shall in no way be affected, impaired or excused because Owner is unable to fulfill any of its obligations under this lease, or to supply, or is delayed in supplying, any service expressly or impliedly to be supplied, or is unable to make, or is delayed in making, any repair, additions, alterations or decorations, or is unable to supply, or is delayed in supplying, any equipment, fixtures or other materials, if Owner is prevented or delayed from so doing by reason of strike or labor troubles, government preemption or restrictions, or by reason of any rule, order or regulation of any department or subdivision thereof of any government agency, or by reason of the conditions of which have been or are affected, either directly or indirectly, by war or other emergency, or when, in the judgment of Owner, temporary interruption of such services is necessary by reason of accident, mechanical breakdown, or to make repairs, alterations or improvements.
Except as otherwise expressly provided in this lease, this lease and the obligations of Tenant hereunder shall be in no wise affected, impaired or excused because Landlord is unable to fulfill, or is delayed in fulfilling, any of its obligations under this lease by reason of strike, other labor trouble, governmental pre-emption or priorities or other controls in connection with a national or other public emergency or shortages of fuel, supplies or labor resulting therefrom, acts of God or other like cause beyond Landlord's reasonable control.
Pro-Landlord Covid Provisions:
Government Event. Tenant hereby acknowledges and agrees that, notwithstanding anything contained in the Lease, any declared state of emergency or public emergency related to COVID-19 or other pandemic, or any government mandated or ordered quarantines, closures or disruptions, re-opening plans whether promulgated by the government and/or Landlord, including, without limitation, cleaning protocols and practices related thereto (any of such events or occurrences being a "Government Event"), shall not constitute a defense, offset or counterclaim to payment of any amounts payable by Tenant to Landlord under the Lease. To the full extent legally permissible, Tenant hereby waives any rights now or hereafter conferred upon it by statute, proclamation, decree, order, or otherwise (collectively, "Tenant Rights") to surrender the Premises or terminate the Lease or to claim any abatement, setoff, diminution, reduction or suspension of rent or other charges on account of any such Government Event.
Tenant agrees that there shall be no abatement of rent in connection with the COVID-19 pandemic, whether based on theories of frustration of purpose, impossibility, force majeure, unanticipated or unforeseen events, or any other similar or dissimilar theories, and irrevocably waives the benefits of any future laws, legislation, regulations, executive orders or other legal requirements or mandates which defer, abate or excuse the payment of rent based in whole or in part on the COVID-19 pandemic or the consequences or economic impact thereof.
Pro-Tenant Covid Provisions:
Section 1.1 Unavoidable Delays. (i) The provisions of this Section shall be applicable if there shall occur during the Term, or prior to the commencement thereof, any pandemics, strikes, lockouts or labor disputes, inability to obtain labor or materials (or reasonable substitutes therefor) or acts of God, governmental restrictions, regulations or controls, enemy or hostile governmental action, acts of terrorism, civil commotion, fire or other casualty or other conditions similar or dissimilar to those enumerated in this Section beyond the reasonable control of the party obligated to perform (exclusive of financing) and not due to the fault or negligence of said party (herein called "Unavoidable Delays"). In no event shall lack of funds be deemed an Unavoidable Delay. If Landlord or Tenant shall as a result of any Unavoidable Delays, fail to punctually perform any obligation on its part to be performed under this Lease, then such failure shall be excused and shall not be deemed to be a breach of this Lease by the party in question, and the time allotted said party to so perform its obligation shall be extended by a period equal to the time such delay continues. Once the excused period of delay ends, said party shall diligently prosecute such obligation to completion.
(ii) In the event that Tenant is unable to open to the public or perform its obligations hereunder arising from or connected with the disruption of normal business activity during the COVID-19 pandemic or any future pandemic (the "Pandemic"), including without limitation, such matters as unavailability of materials, labor, and/or equipment, obtaining building permits and/or inspections, or if Tenant is required to suspend business upon the Premises due to the Pandemic (the "disruption"), and which disruption arises from anything connected with the Pandemic, including any orders, regulations, restrictions, including without limitation, states of emergency (hereinafter collectively referred to as issued by any civil authority with competent jurisdiction (hereinafter referred to as "Civil Ordinances"), Tenant's obligation to pay rent and other sums owed to Landlord shall be delayed by one day for each day that the disruption continues.
(iii) During the period in which the Civil Ordinances are in effect, Tenant may choose to close during the period of the Civil Ordinance, and in such case, Tenant shall not be obliged to pay rent and other sums owed to Landlord during such closure, or may continue to stay open on the basis of restrictions to hours and/or business activities as Tenant may deem necessary and reasonable, or as may be imposed by any civil authority, aforesaid, and Tenant shall pay 50% of the rent and other sums otherwise owed to Landlord, including those stated in the Lease until such Civil Ordinances are lifted.
# # #
Should you have questions about these provisions, or other concerns about your commercial lease, please do not hesitate to reach out to our colleague, Robert Epstein, at 212-619-5400, or via email at: repstein@nfllp.com