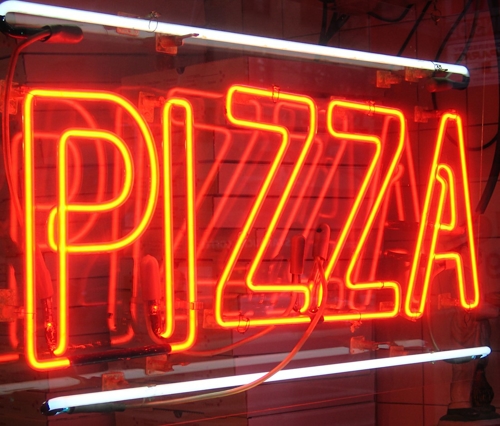 Salvo's Pizzeria, which is located inside of the Delray Beach Market, 33 SE 3rd Ave, Delray Beach (Florida), offers traditional hand-tossed "New York pizzas" made by Sicilian Chef Salvo Barna.
▫️
According to his website, "Salvo's Pizzeria is no frills, all flavor and serious about its slices," which are described as being made "New York style." While there are a whole lot of different opinions as to what makes New York pizzas so great, many believe that one secret is to spoon a very light layer of tomato sauce on the dough, to then top it with a full-fat mozzarella cheese (which is dried and grated), and to then add oregano, basil, and/or dried red pepper chili flakes.
▫️
Size also matters. This kind of pie typically ranges from 18 to 24 inches (45 to 60 cm) in diameter and is usually cut into 8 slices, which need to be large, to allow folding (so that any the ingredients can slide to the middle instead of all over your face and lap).
▫️
And finally, a thin, crispy crust is pivotal. Usually made with a high-gluten bread flour, a lot of people are of the view that New York water is what gives the dough its authentic style, flavor, and texture.
▫️
While use of the Big Apple's water isn't specifically mentioned, Salvo's 22" pie comes close to checking off all the boxes. When we go, we order a "cheese" version ($20), with basil (+$2), and extra sauce (+$2) -- that's $24 all in. And it's consistently delicious.
▫️
Points were deducted because some objected to the additional cost for the basil and (little) sauce, we also thought the crust needed to be crispier, and preferred to see more "red," (as opposed to the greasy, "yellowish" tinge which we didn't find visually appealing). Ultimately, though, Salvo's pie still ended up with an impressive "B."
▫️
Now that ain't pie in the sky. Eat-in or take-out one or Salvo's cheese pizzas, today.
.
.
#lucasaferrara
#pizza
#pizzas
#food
#foods
#junkfood
#newyorkpizza
#pizzapie
#nypizza
#foodie
#foodies
#southfloridafood
#italian
#italianfood
#cheesepizza
#restaurant
#restaurants
#pizzeria
#pizzarias
#pizzamaker
#pizzamakers
#foodreview
#foodreviews
#delraybeachmarket
#delraybeachfood