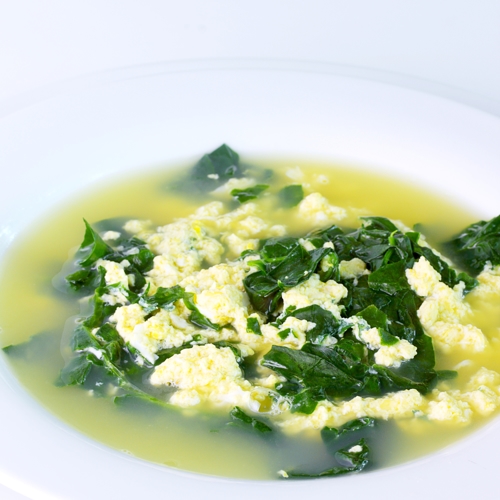 "Stracciatella," which is Italian for "little rags," is a name applied to three different kinds of popular food items: a soup, a cheese, and even a gelato. The one on the menu at CASA L'ACQUA RISTORANTE ITALIANO, located at 9 SE 7th Avenue, in Delray Beach (Florida), referenced an Italian egg-drop soup, which they called "Stracciatella Fiorentina --egg white[s], spinach, parmesan, [and] chicken broth." ($12.95)
Considered by some to be the ultimate comfort food, celebrity chef Giada de Laurentis purportedly said, "The beauty of this soup is its simplicity, because it's mild yet flavorful …. It's what my mom would make for my brother, my sister and me when we were under the weather. It's like a big hug." [And to secure that embrace, her recipe calls for chicken broth, eggs, freshly grated Parmesan, parsley, basil leaves, spinach leaves, and ground black pepper.]
Unfortunately, Casa L'Acqua's version wasn't huggable. It was surprisingly bland. Nothing popped. Not the cheese. Not the egg. Not the spinach. Not the broth. Not a thing. It just was.
Because we were hoping for something a bit more savory, we rated this dish a "C." Despite its low score, It certainly wasn't terrible. In fact, I noted it would make a nice dish to have when one is feeling "under the weather." But in response, a guest snidely commented, "I'd rather down a bottle of NyQuil …. It packs a lot more punch."
Let's just say, I found that remark pretty ragged.
#lucasaferrara #soup #soups #eggdrop #eggdropsoup #italianeggdropsoup #stracciatella #italianfood #italianrestaurant #delrayfood #delrayrestaurant #foodie #foodies #southfloridafood #southfloridarestaurant #foodreview #foodreviews #foodcritique #eggs #cheese #chicken #chickenbroth #spinach #italiancooking