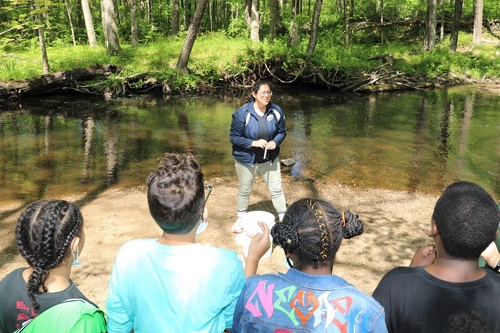 IT'S ABOUT TROUTER SPACE?
The New York City Department of Environmental Protection (DEP) manages New York City's water supply, offering high-quality drinking water to almost 10 million residents -- some 8.8 million in New York City alone. Nearly a billion gallons of water come from a watershed that extends over 125 miles from the city, consisting of three controlled lakes and 19 reservoirs. Around 7,000 miles of tunnels provide water to homes and businesses in the five boroughs, and 7,500 miles of sewer lines bring wastewater to 14 in-city treatment plants.
Trout Unlimited is a national grassroots non-profit organization whose mission is to conserve, protect and restore North America's cold-water fisheries and their watersheds. Since 2002, Trout Unlimited and the DEP have worked together through the Trout in the Classroom program, to educate students from New York City and watershed communities on the significance of safeguarding our water resources. This environmental program teaches pre-K through grade 12 students about the intersectionality between the NYC water supply system, water quality, the students, and the fish. Partner organizations such as the Watershed Agricultural Council offer watershed forestry bus tour grants to the schools participating in the Trout in the Classroom program, so that these kids can visit the New York City Watershed.
In response to the COVID-19 pandemic, the program offered a hybrid approach. The first option was that schools could opt into raising trout in their classroom and receive eggs from the Cold Spring Harbor Hatchery and the New York State Department of Environmental Conservation. The second option was a live feed of a trout tank on "Trout Tuesdays" and "Think Tank Thursdays" at the Trailside Museum at Ward Pound Ridge Reservation, in NYC's East of Hudson Watershed. This option offered virtual field trips and educational videos and blogs, with educational content being made by the schools that raise trout in their classrooms.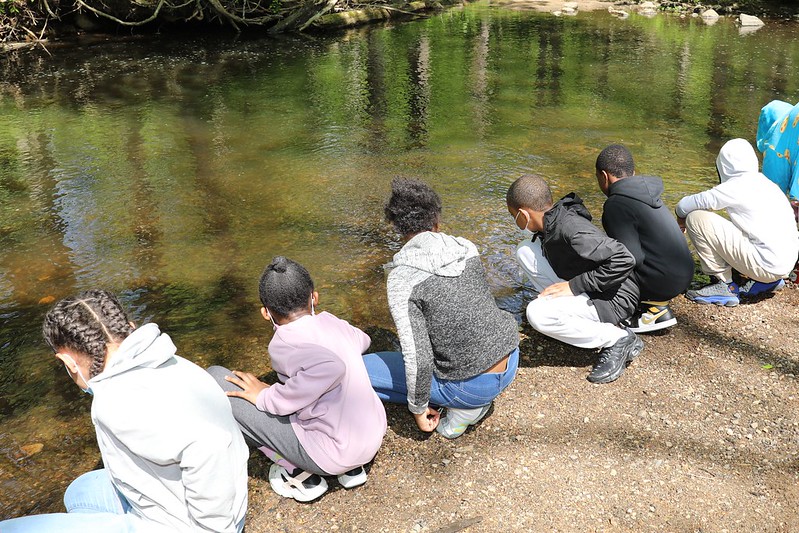 Thousands of students who incubated trout eggs and raised them into juvenile trout, also known as fingerlings, take designated field days where they release the fingerlings into New York City watershed streams from March through June. On May 17th, 24 science students from PS 36M, The Margaret Douglas School in Morningside Heights, Manhattan, released the fingerlings that they had raised since October 2021. Over 100 fingerlings were released into the Cross River, which passes through the Ward Pound Ridge Reservation in Westchester County and feeds into New York City's Cross River Reservoir.
Source: https://www1.nyc.gov/site/dep/news/22-019/manhattan-elementary-school-students-release-juvenile-trout-new-york-city-watershed-streams#/0