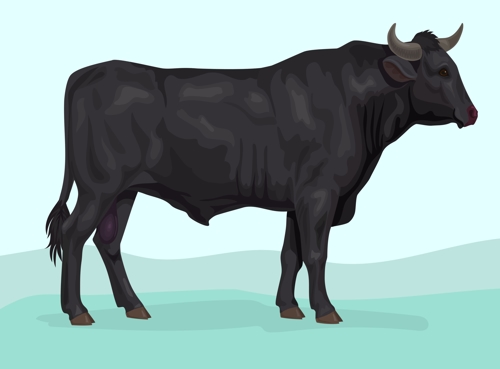 Four Japanese cattle breeds — Aakage (Brown), Kuroge (Black), Mukaku (Polled), and Nihon Tankaku (Shorthorn) — are considered "Wagyu" (which loosely means "Japanese cow/cattle").
▫️
Because of its high levels of intra-muscular fat, or marbling, the meat is considered of "finer" quality, and is said to offer a more "flavorsome" experience. For decades, restrictions on exports were quite tight. And, luckily, they've loosened a bit, over time. But the USDA requires purveyors selling this food product to ensure that it comes from a purebred animal, (93-99% Japanese), or full blood (100% Japanese).
▫️
Interestingly, Wagyu genetics was introduced to Australia back in the 1990's. Fast forward some thirty years, and Australian Wagyu beef is now highly regarded and sold worldwide — with 80-90% exported, and about 10-20% enjoyed domestically.
▫️
So, while we were at Evelyn's Fort Lauderdale, [which is on the grounds of Four Seasons Hotel and Residences, 525 North Fort Lauderdale Beach Blvd., (Florida)], when a guest saw the "Australian Wagyu Beef (GF) — Date Barbeque, Red Chili Shug" ($32) — on the menu, she insisted that we try it.
▫️
Often described as "savory," or "creamy," this protein is supposed to offer a "melt-in-your-mouth sensation," when prepared correctly. But we were wrongfully denied that experience here. While the smoky theatrics was certainly "cutesy," we could have done without it, particularly since our meat arrived cold and dehydrated; as if it had been prepared earlier in the week and left out to accumulate dust. Since there was nothing redeeming about this wantonly wrongful Wagyu, it scored an "F."
▫️
I guess you can say this beef was a bit jerky.
.
.
 
#lucasaferrara @fourseasons @fsfortlauderdale @evelynsfortlauderdale#food #foodie #foodies #meal #meals #dining #diningout #foodreview #fat #foodreviews #restaurant #restaurants #foodcritic #foodcritique #wagyubeef #mediterranean #fourseasons #redmeat #fourseasonsrestaurant #meat #beef #mediterraneanfood #fortlauderdale #fortlauderdalefood #australianwagyu #fortlauderdalerestaurant #wagyu #marbling