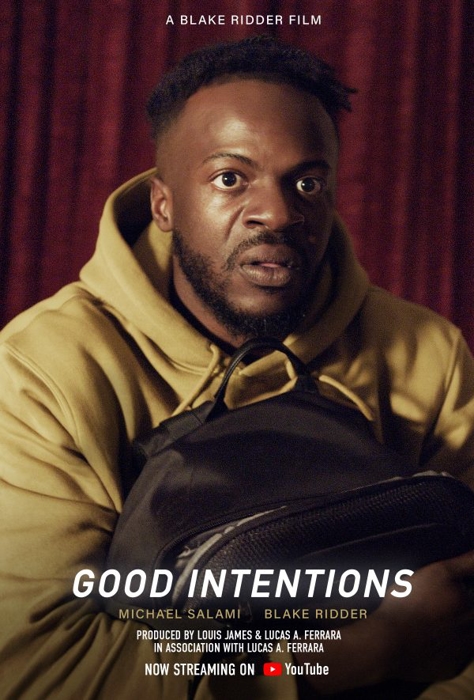 What happens when a home invasion goes terribly wrong?
▫️
Well, you can expect a few deaths — and some dark comedy — particularly if it's a film written and directed by Blake Ridder. His short, GOOD INTENTIONS, will be screening this coming Sunday, June 26, 2022, at an event sponsored by SUNDAY SHORTS FILM FESTIVAL.
▫️
In this thriller, we watch as two thieves break into a luxury apartment and encounter the unexpected. Are these protagonists good, bad, neither … both? Well, let's just say it gets a bit "complicated." (And, of course, there are a few twists.) But, by the end, it all gets hammered out. That, I can promise you.
▫️
Blake, and producer Louis James, have assembled a stellar cast and crew. They include:
▫️
Cast:
*
Sarah Alexandra Marks - @sarahamarks
*
Michael Salami - @mrmsalami ("Best Actor," Feel the Reel International Film Festival)
*
Louis James - @louisjames24
*
Blake Ridder - @blake.ridder
▫️
Crew:
.
Charlie Swain - @charleshrswain
.
Karem Isik - @adiylamustesna
.
Jeffrey Louis Salkilld - @jeffro202
.
Tirza Saenz - @catanida
▫️
It was a pleasure working with them all.
▫️
The screening starts at around 18:00 (6 PM), at Ridley Road Social Club, in London. Blake will be in attendance, as will Actor/Producer, Louis James, and Actress, Sarah Alexandra Marks.
▫️
For additional information, please visit the festival's website, https://fb.me/e/3wz815plH
▫️
Forget the road to hell … head to Ridley Road (Social Club) for some GOOD INTENTIONS.
.
#
To view a list of Lucas's other projects, click here: https://www.imdb.com/name/nm11739610/
#
#lucasaferrara @sundayshortsff @ridleyroadsocialclub @blake.ridder #horror #horrormovies #horrorfilm #horrorfilms #horrormovie #thriller #thrillers #indiefilm #indiefilm #movie #movies #shortfilm #shortfilms #director #actor #actors #moviemaking #actress #moviemakers #indiefilm #indiefilms #burglar #thief #thriller #thieves #directors #directing