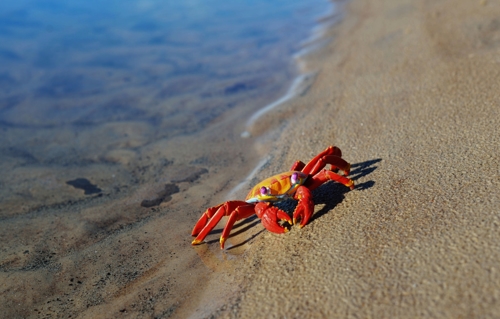 Because it promised to bring an "elevated New York dining to Boca," we decided to visit Blue Dog Cookhouse and Bar, which opened April 7, 2022, at the Boca Mall – 6000 Glades Road, Boca Raton, Florida. They claim to use "top-quality ingredients," to give "classic and innovative dishes their best life."
▫️
But the best is not what we got, as we noted the other day. Their expensive "Hamachi Pizette" ($35+ after tax/tip) was so lackluster, that it was with considerable trepidation that we followed our server's recommendation and went with "the best" (and most unusual) thing on the menu: "BONE MARROW CRAB CAKE -- Sourdough toast points + charred lemon" ($29 before tax/tip).
▫️
Bone morrow is a spongy tissue found in the center of spine, hip, and thigh bones from such animals as cows, lambs, caribou, and moose. It typically has a smooth texture and is characterized by a rich, slightly sweet flavor. Anthony Bourdain — a highly regarded author, chef and food and travel documentarian — offered up a recipe which featured veal marrowbones, parsley, shallots, capers, extra-virgin olive oil, lemon, salt, paper and toasted bread.
▫️
We've never seen this tissue combined with crabcake before and thought it'd make for a weird offering. And it did. The pairing muted the flavors of the crab. And, overall, the sweetness and texture you would normally expect was lacking. Ideally, any binder that's used should never overwhelm the plate, and mayo is often the biggest offender. But, here, the marrow weighed this thing down, in a bad way. It was an unnecessary addition to a dish that typically stands up well on its own.
▫️
Because it made us incredibly crabby to shell out some $36+ (after tax/tip) for this course, we rated it an "F."
▫️
This spineless plate should end up in the Dog-house ….
.
.
.
#lucasaferrara
@bluedogboca
#crab
#crabs
#seafood
#food
#foodie
#foodie
#foodreview
#foodreviews
#bocaratonfood
#bocaratonrestaurant
#restaurant
#restaurants
#bocafood
#southfloridafood
#cuisine
#chefs
#bocamall
#bocaratonmall
#bar
#bars
#cooking
#bonemarrow
#crabmeat
#southfloridafood
#southfloridafoodie
#meat