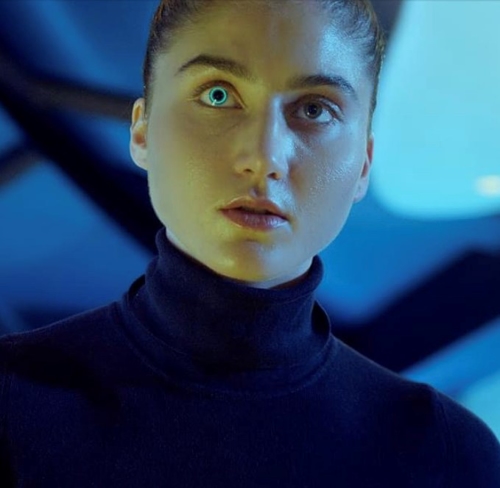 In 1993, scientist and science fiction writer, Vernor Vinge, wrote that, "Within thirty years, we will have the technological means to create superhuman intelligence. Shortly after, the human era will be ended."
▫️
While his timing may have been a bit off, highly regarded thinkers and inventors, like Steven Hawking and Elon Musk, agree with Vinge, and believe that super-intelligent machines will eventually escape our control and seek to subvert or subjugate us.
▫️
C600 — a new, award-winning, sci-fi series, written and directed by Blake Ridder — chimes in on that debate. In C600: The Singularity, special agents struggle to outwit seemingly indestructible robots that are either malfunctioning, or have gone rogue, and we watch as these brave fighters search to retrieve and disable the machines. But who's on the side of good or evil? (You'll have to tune in to find out.)
▫️
Starring, in alphabetical order, Peter Cardona, Meghane De Croock, Louis James, Hannah Knight, Alps Lifee, Sarah Alexandra Marks, Rui Shang, and Yusha Shang – the series has clocked in well over a million views, to date. Watch them for FREE by visiting
@blake.ridder
(link in his bio), or clicking here:
▫️
C600: CHAPTER 1
https://youtu.be/pZs4SYfU6pA
(released on June 20, 2020)
▫️
C600: INFILTRATION – CHAPTER 2
https://youtu.be/wHTtcoRQM4M
(released April 21, 2021)
▫️
C600: STEP BACK IN TIME – CHAPTER 3
https://youtu.be/6-Gm-WliVWs
(released December 16, 2021)
▫️
C600: THE SINGULARITY – CHAPTER 4 https://youtu.be/KRM-Wzm69Pg (released June 17, 2022)
▫️
How's that for one singular-ity sensation?
#
To view a list of Lucas's other projects, click here: https://www.imdb.com/name/nm11739610/
#
#lucasaferrara @ridderfilms @alpslifee @blake.ridder @meghanedcr @louisjames24 @sarahamarks @hannahknight.ldn @official_ruishang @petercardona7 @yusha_shang
With special thanks to joshmunton @raki.ralko @adiylamustesna and @davidcheungaction
.
.
.
#c600 #robot #robots #scifi #timetravel #sciencefiction #thriller #movie #movies #series #actress #fightscene #indiefilm #indiefilms #robotics #timemachine #independentfilm #fantasy #fighter #independentfilms #actors #acting #director #directing #moviemaking #moviemakers #fiction