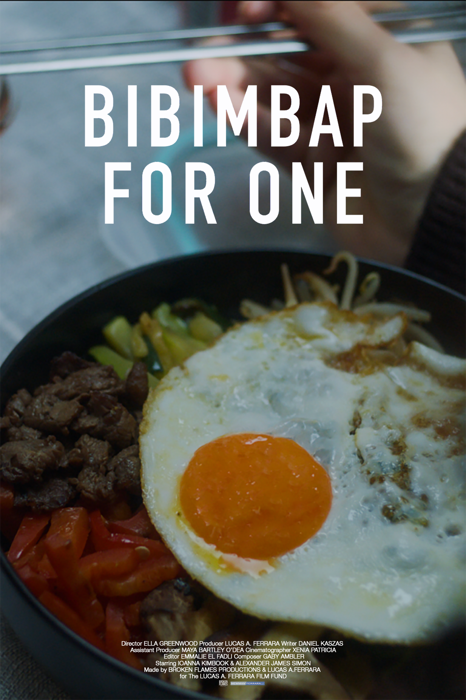 In "Bibimbap for One," our protagonist, Hana, feels lost and alone after the loss of her mother. Will she succumb to her depression, or will a chance encounter with a neighbor change the course of her life?
▫️
I am pleased to have partnered with director Ella Greenwood, and the Broken Flames Productions team, to produce this endearing and moving project written by Daniel Kaszas, our 2021 Film Fund selectee.
▫️
This short is currently competing at festivals across the globe -- under the watchful eye of our friends at Festival Formula [
@festivalformula
]. Until it appears on a screen near you, check out this clip which shows how Dan's words were delivered by our two stars -- Ioanna Kimbook (Hana), and Alexander James Simon (Bernard) – and captured on film by Ella.
▫️
My sincerest thanks to everyone involved for bringing Bibimbap to life.
▫️
CAST
@ioannakimbook
Alexander James Simon
*
CREW
Director -
@popsella
Writer -
@daniel.kaszas.97
Producer – Yours truly
Assistant Producer -
@maya_bod
Cinematographer-
@xeniaxpatricia
Editor -
@editor_emmalie
Composer -
@gabyamblercomposer
Colourist -
@chris.shaw.colour
Sound Design -
@_inesadriana_
Casting Director -
@frankie_fearis12
Makeup Artist - morganemakeup11
Costume Designer -
@tegantime
Production Designer - Junting Yang
1st AD -
@esmeehuguenin
1st AC -
@oscarharrisonfilm
2nd AC -
@nizah_e
Sound Recordist -
@rufusambler
Gaffer -
@zetaspy
Spark - Wenxuan Xu
BTS photographer -
@ines_hachou
Consulting Producer - Brent N Hunter
▫️
If you have a screenplay you would like produced, check out our 2022 Film Fund Competition, now underway, here:
https://brokenflamesproductions.com/film-fund
.
.
#lucasaferrara
#movies
#movie
#film
#films
#shortfilm
#shortfilms
#drama
#dramas
#filmmaker
#filmmaking
#actor
#actors
#director
#directing
#mentalhealth
#depression
#food
#koreanfood
#bibimbap
#relationships
#friends
#grieving
#depression
#artists
#screenplay
#friendship
#friendships
#
#