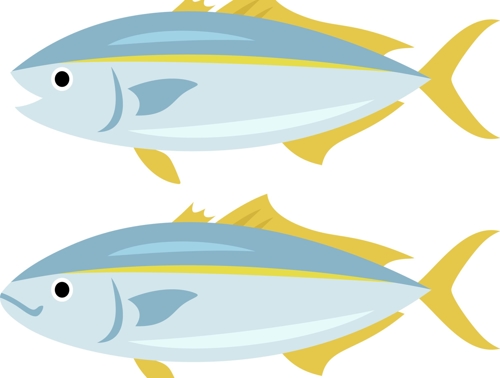 Hamachi, a staple of Japanese cuisine, is a yellowtail fish that is typically farm-raised, and served as a sushi-grade, raw-dish at restaurants across the globe. It's characterized not only by its mild, oily taste, but by its buttery-firm texture.
▫️
Three different types of creatures fall under the yellowtail banner. They include: the gold-striped amberjack ("Hiramasa"), the greater amberjack ("Kanpachi"), and the Japanese amberjack ("Buri"). But sashimi-grade hamachi typically comes from the last group – the "Buri."
▫️
Blue Dog Cookhouse and Bar, which opened April 7, 2022, at the Boca Mall – 6000 Glades Road, Boca Raton, Florida – claims to bring "an elevated New York dining experience" to the South Florida area. They also purport to use "top-quality ingredients" to give "classic and innovative dishes their best life."
▫️
Regrettably, their "Hamachi Pizzette – yellowtail + red onion + ponzu aioli + micro shizo bulls blood micros + truffle," (a whopping $28 BEFORE tax/tip), could only be described as life-LESS. We got it without the truffle oil, because we wanted to taste the fish (not some artificial chemical posing as truffle). And when we asked our waiter, he assured us that the kitchen would go light on the "aioli" – which is technically supposed to be a "garlic oil," made with mashed garlic and olive oil. Alas, many establishments tend to label any type of flavored mayo, especially a garlic mayo, as a garlic aioli. And that's what we suspect happened here. The mayo taste was overwhelming and not appreciated.
▫️
Because it was pure fatuity, we rated it an "F," particularly given the $35+ cost (all-in, after tax/tip).
▫️
We suggest you not get hooked in by this Dog of a fish dish.
.
.
.
#lucasaferrara
@bluedogboca
#sushi
#fish
#seafood
#hamachi
#yellowtail
#aioli
#pizza
#pizzette
#food
#foodie
#foodies
#foodreview
#bar
#bars
#foodreviews
#bocaratonfood
#mall
#bocar
atonrestaurant
#restaurant
#restaurants
#southfloridafood
#chefs
#japanesefood
#japanesefoods
#japanesecuisine
#cuisine
#bocamall
#bocaratonmall