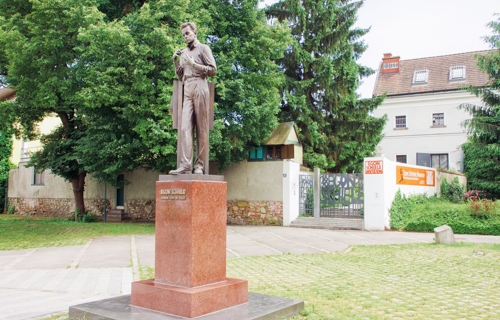 Stolen Schiele Paintings Go to Owner's Heirs
Egon Schiele's paintings, "Woman in Black Pinafore," and "Woman Hiding Her Face," were the subject of a seven-year legal dispute which enthralled the international art community. In Reif v. Nagy, after the New York County Supreme Court decided that the plaintiffs were the rightful owners of the 20th century Austrian artwork, a series of appeals ensued. But in May, the dispute finally came to an end.
The case was spurred by an art expert who noticed the works displayed at Nagy's art show booth back in 2015. The plaintiffs' lawyer later demanded that Nagy return the paintings to his clients, Milos Vavra, David Fraenkel, and Timothy Reif; the heirs of Fritz Grünbaum, an Austrian-Jewish entertainer who was forced by Nazis at gunpoint to sign over title to the collection. In 2018, Justice Charles Ramos decided that the family members were entitled to the property's return, as Grünbaum's forced signature wasn't a valid conveyance.
In July 2019, New York's Appellate Division, First Department, affirmed Ramos's decision. And, at the end of May of this year, the New York Court of Appeals denied the defendant's motion for leave to appeal, ending the case and Nagy's bid to keep the paintings.
Citing to a 2011 federal court decision, Bakalar v. Vavra, Nagy's attorney believes the state court system got this case wrong. In Bakalar, the U.S. District Court of the Southern District of New York found against the heirs and concluded that the artwork had not been stolen by Nazis but had been saved by Grünbaum's family and sold by his sister-in-law years later.
But the heirs' counsel contended that the state courts had correctly found that Grünbaum had not voluntarily relinquished the collection and that neither Bakalar nor Nagy could prove that Grünbaum's sister-in-law had good title.
Valued at $3.4 million, combined, the paintings are slated to be sold at Christie's auction house this fall, with the proceeds reportedly going to a foundation which supports young artists.
Source: New York Law Journal (subscription required): https://www.law.com/newyorklawjournal/2022/06/07/as-case-over-paintings-allegedly-looted-by-nazis-finally-ends-lawyers-public-debate-continues/