City Thinks This is No Fool's Game
The New York City Mayor's Office of Media and Entertainment (MOME) has partnered with City University of New York (CUNY) to create the first Bachelor's Degree program in Digital Game Design at City College of New York (CCNY). The degree was created to drive growth by providing college students with a public, affordable option for careers in the digital games industry.
According to a recent report, this particular sector plays a large role in the city's economy, supporting 7,600 jobs, representing $762 million in wages, and generating $2 billion in economic output. (This industry was projected to reach upwards of $180 billion in global sales in 2021.)
New York City is "leveling up" by creating the first-ever Game Development Industry Council, which will advise the city's policies and programs in the games development sector.
MOME's $2 million investment is expected to impact over 1,000 students over the next three years. (In collaboration with Urban Arts and the Harlem Gallery of Science, the program will create a pathway from Title I high schools to the digital gaming industry, aiming to increase diversity and equity through internships, mentorships, college events, and eSports sponsorships.)
Game on!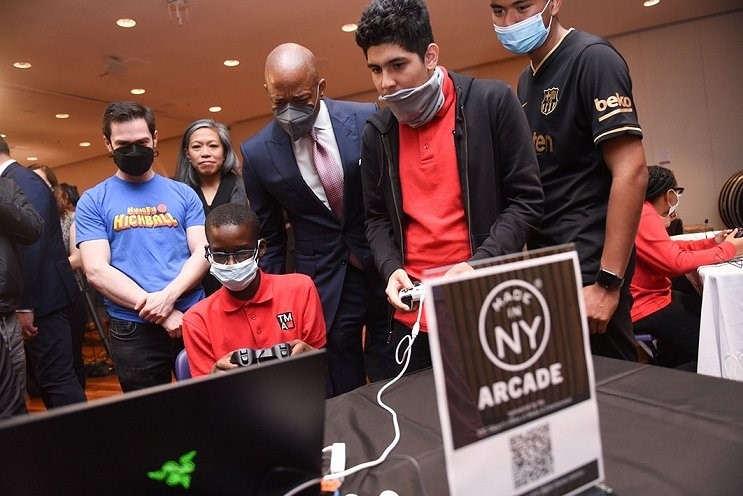 Mayor Eric Adams, Deputy Mayor Maria Torres-Springer discuss KungFu Kickball with local NYC game developer Jonah Wallerstein of the GUMBO Collective at the "Made in NY" Arcade, as students from Thurgood Marshall Academy demonstrate the game.

# # #
Source: https://www1.nyc.gov/site/mome/news/05162022-digital-games.page