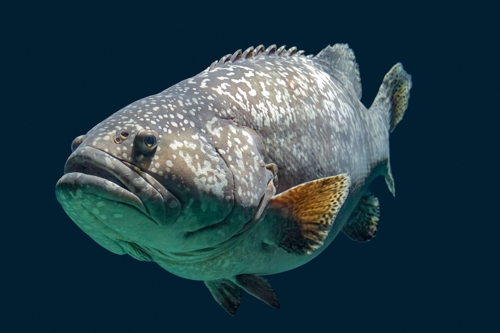 It was getting late, and Happy Hour (which runs from 4-6 pm, Mon-Sat) at DUNE by Laurent Tourondel, a restaurant at the base of Auberge Beach Residences & Spa, at 2200 N Ocean Blvd, in Fort Lauderdale, was coming to an end. So, for our last item, we decided to go with the "Blackened Grouper Steamed Bun – basil, cilantro, chili-lime mayo (2 pieces)" ($12).
▫️
Now, groupers are massive fish. They can live anywhere between 5-15 years and can grow up to 9 ft (2.7 m) long and weigh up to 400 lb (181 kg). Did you know they live in small groups known as "harems," with only one male and several females? And because they're "monoandric protogynous hermaphrodites," they are mostly female until maturity and can shift sex if the male should die or disappear, for example.
▫️
The meat is typically described as mild (like halibut and seabass), with a slightly sweet flavor (similar to crab or lobster). Since it's considered an oily fish, we were surprised when our food came out dry and stone-cold, particularly since it's not that difficult to make. (Celebrity chef Paula Deen makes her version using blackened seasoning, Italian seasoning, canola oil, lemons and oregano (garnish).)
▫️
Because it was our least favorite item we had sampled that visit, it scored a "C," our lowest rating of the day. (Like with the chicken dish we reviewed earlier, the accompanying bun lacked any flavor. It was as bland as could be.) But if you're looking for a truly relaxing Happy Hour, with unparalleled views of sandy shores abutting the Atlantic Ocean, I wouldn't hesitate to regroup at DUNE. (Just don't order this fish. We weren't groupies.)
.
.
.
#lucasaferrara
@dunebylt
@auberge_beach
#happyhour
#dune
#food
#foods
#foodie
#foodies
#restaurant
#restaurants
#southfloridafood
#chef
#chefs
#fortlauderdale
#fortlauderdalefood
#seafood
#foodreview
#foodreviews
#foodcritique
#frenchrestaurant
#frenchchef
#fish
#fishdish
#grouper
#bun
#blackenedfish
#blackenedgrouper
#seafoodfish
#barfood
#happyhourfood