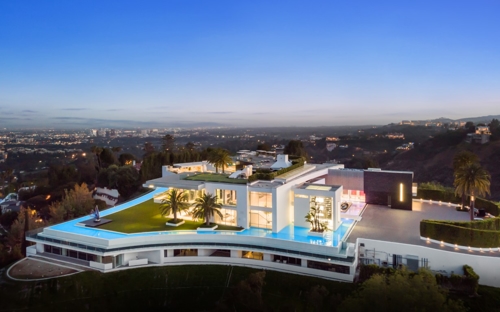 Bel-Air Mansion Selling for $295 Million
One of the most expensive residential homes in the world has just hit the market. Dubbed "The One," this Bel-Air super-mansion in Southern California looks like something out of a sci-fi movie.
Fit for a Bond villain, the entirety of this 105,000 sq. ft. home is situated atop a promontory -- with a full 360-degree view of the Pacific Ocean, downtown Los Angeles, and the San Gabriel Mountains – and is surrounded by over 3.8 acres of property. Almost twice the size of the White House, the residence is also surrounded by a moat on three sides, complimenting numerous outdoor pools, a tennis-court, a 10,000 square foot sky deck, and a 30-car garage with rotating display turntables.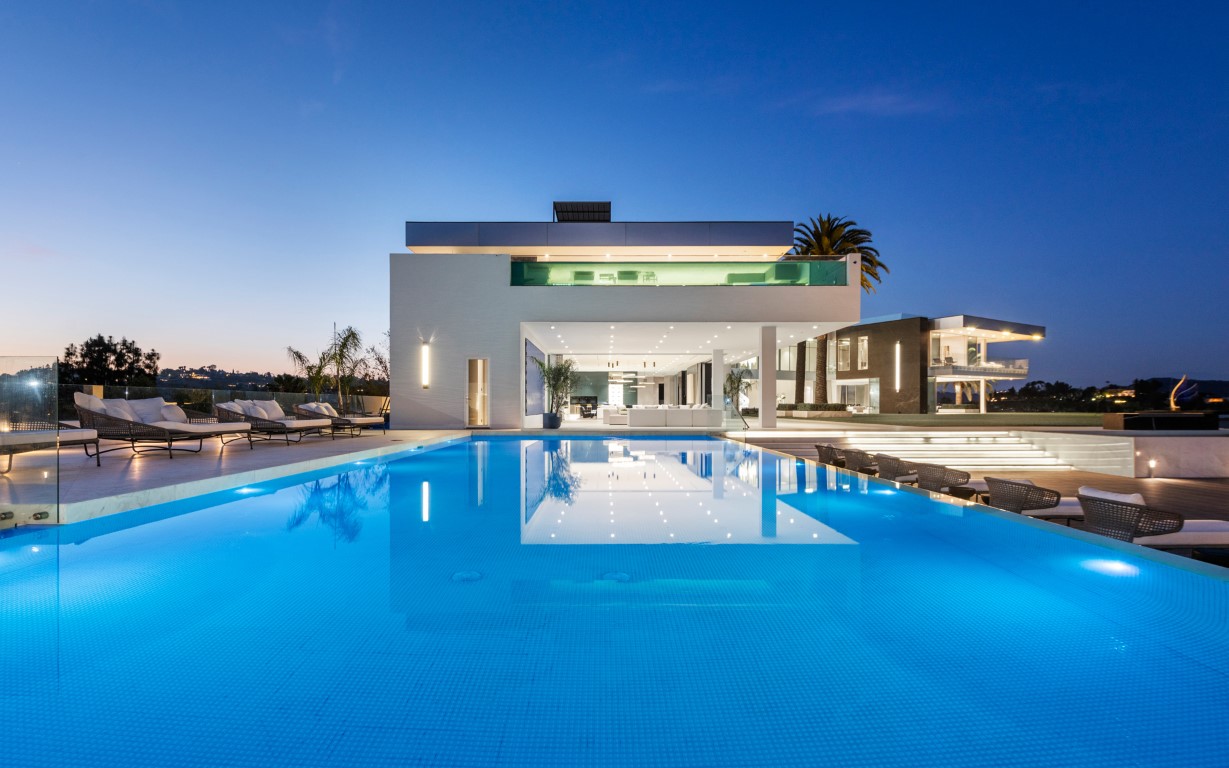 Inside, no expense has been spared. Sporting 21 bedrooms and a whopping 49 bathrooms, it may take you a full day to explore the interior of this monstrous pad. As you wander around, you'll stumble across a 2-story library (which has its own balcony and water features streaming down three floor-to-ceiling windows), a custom bar with smoked-mirror backsplash and marble countertops, a four-lane bowling alley, and a 64-foot indoor pool with a juice bar.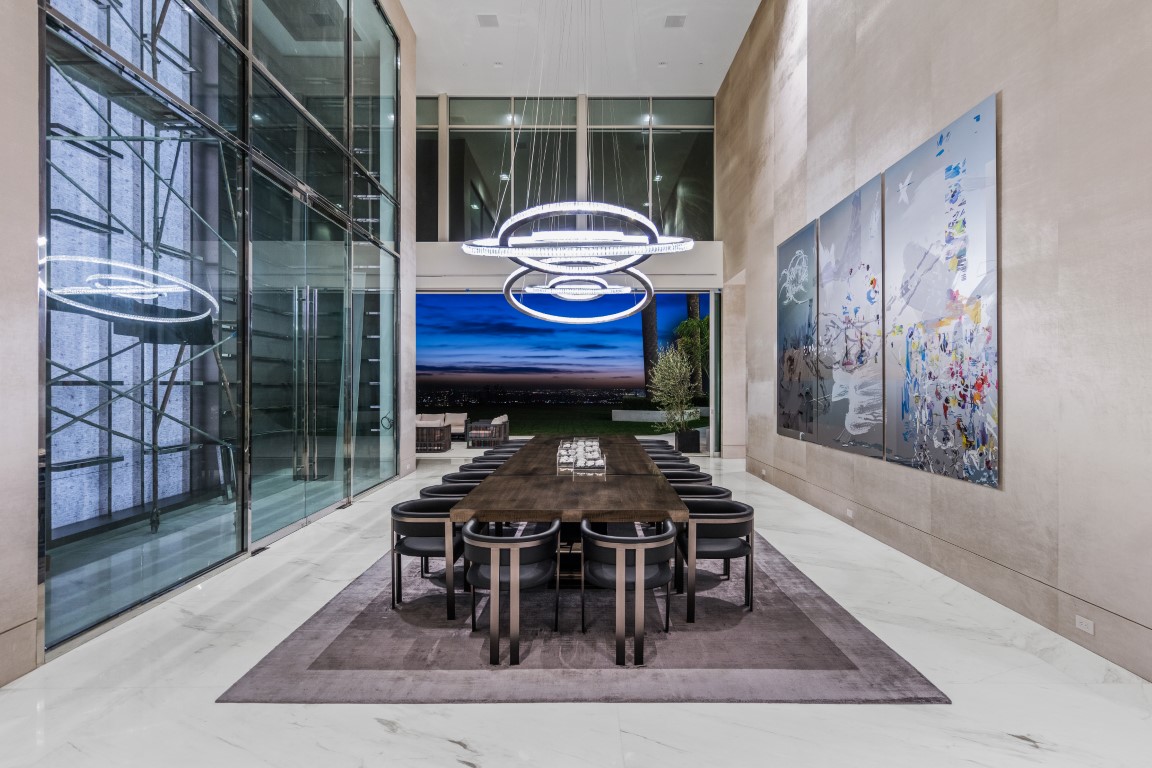 Add to that a 10,000-bottle wine cellar, a cigar lounge, and a putting green -- there's a "man cave" vibe to the place, which also comes with a full-service beauty salon and wellness spa, a massive nightclub and dance floor, a private home theatre with seating for 40, and a 400-foot outdoor running track, equipped with a glass-walled barrier around the perimeter offering stunning panoramic views of the city.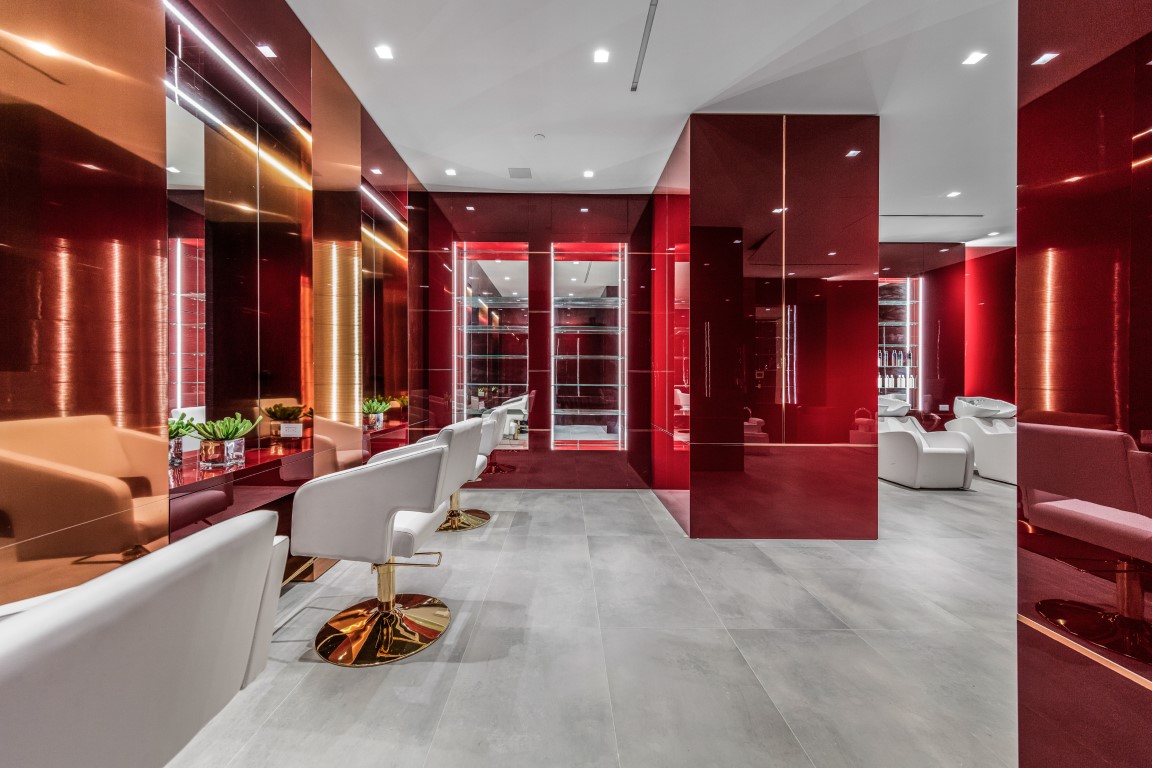 The designers of The One give new meaning to the word "opulent," with an array of different legendary artists contributing to the décor. You'll find butterfly artwork by Stephen Wilson, a rotating statue by Mike Fields, a glass sculpture by Italian artist Simone Cendese, and an Oto Murano chandelier by Vistosi.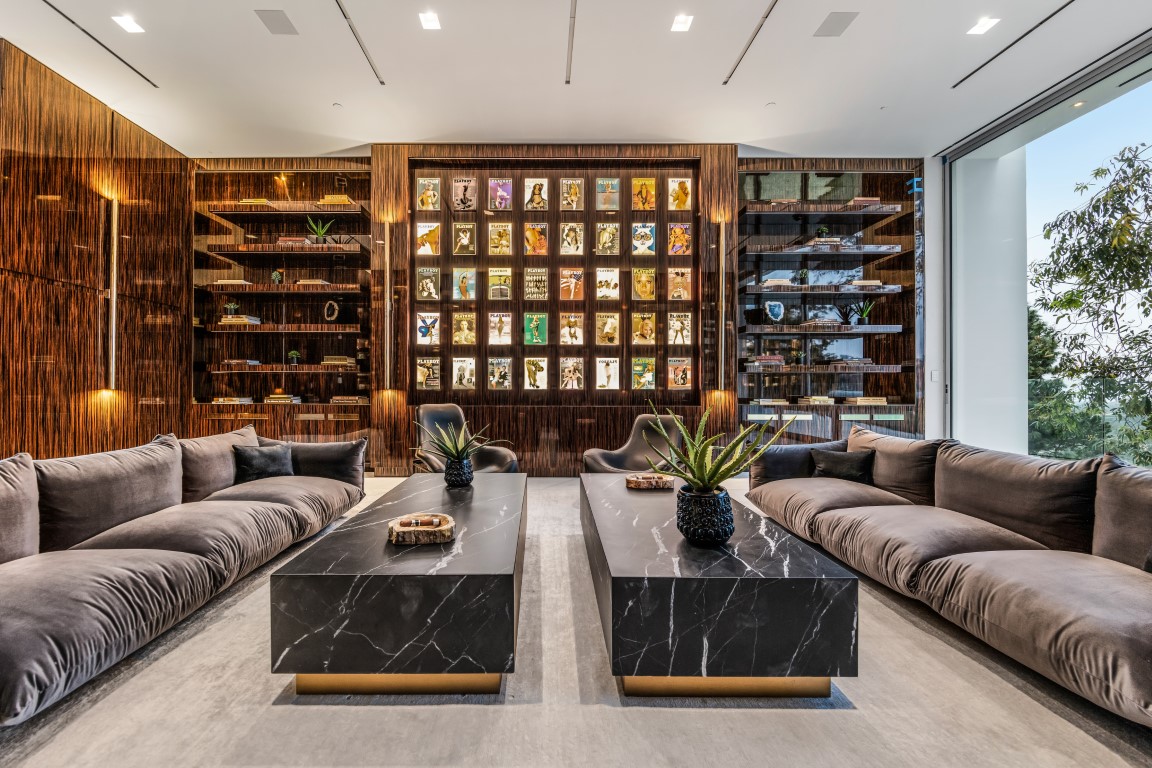 And, as far as the neighborhood is concerned, whomever the new owner of this lavish abode turns out to be, they'll find themselves rubbing elbows with the likes of Justin Bieber, Taylor Swift, Miley Cyrus, Jennifer Lawrence, and Kylie Jenner; all Bel Air residents.
Building such an elaborate structure was no easy feat, with construction delays causing significant cost increases. Previously anticipated to be selling at $500 MM, a more "conservative" price – some $295 MM -- was attached to the listing.
However, if it sells in that range, it will still be the most expensive home ever sold in California, beating out Marc Andreessen's $177 MM Malibu mansion, as well as the infamous Jeff Bezos's $165 MM Beverly Hills Estate.
The listing is currently held by Aaron Kirman of Compass, Beverly Hills and Branden and Rayni Williams of The Beverly Hills Estates, Beverly Hills. If not sold prior, the property will go to an online auction to be conducted by Concierge Auctions on February 28, 2022.
# # #
Source: https://toptenrealestatedeals.com/weekly-ten-best-home-deals/home/americas-most-expensive-home-for-sale-twice-as-big-as-the-white-house
Photos: https://www.dropbox.com/home/TopTenPhotos/Weekly%20Hot%20List/1-7-2022%20-%20The%20One
Photo credit: Marc Angeles, Joe Bryant and Douglas Friedman
Source: TopTenRealEstateDeals.com