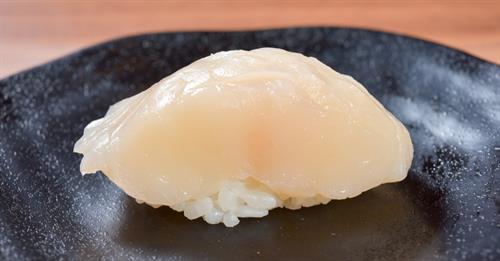 Mollusks are animals without a backbone. With over 50,000 species, it's impossible to do them justice here, but many are (partially or wholly) covered with a hard shell. Perhaps the best known are the "bivalves," or "two-shell" varieties, like claims, mussels, oysters, and scallops. (About 80% of these creatures can be found in the sea, with the rest native to fresh water.)
Scallops – or "hotate," or "hotategai," in Japanese -- have a white adductor muscle that opens and closes their shells. That edible muscle is round and tender, and typically imparts a slight sweetness and a balanced, briny saltiness. At high-end sushi joints, they will preferably come from the northern part of Japan, with those from Hokkaido considered among the best.
Of course, sea scallops from Hokkaido were next up at David Bouhadana's "SUNSET SUSHI," located at 2433 N Federal Hwy, in Boca Raton. There you can experience Chef Bou's version of an "omakase" [お任せ] -- which consists of some 15-17 courses selected by the house and served over a two-hour period. (But remember, this meal will minimally run you about $150 per person before any extras, like tax, tip and any a la carte items you may order.)
If you're as fortunate as we were, you'll receive a raw piece of imported scallop, served over some hand-pressed sushi rice, that is simply sublime. Even though our "itaemae" warned us that it was "very sweet," we thought it was just right, and scored it an "A-." (The cost of the dinner being the only detracting factor.)
While they say success depends on a backbone, SUNSET SUSHI's scallops certainly suggest otherwise.
.
.
#lucasaferrara #sushi #omakase #sushirestaurant #japaneserestaurant #japanesefood #rawfish #fish #seafood #diningout #bocaraton #bocarataonrestaurant #bocafood #southfloridafood #scallop #scallops #mollusks #restaurant #southfloridarestaurants #diningout #eatingout #foodreview #foodcritic #foodie #foodies #food #restaurants