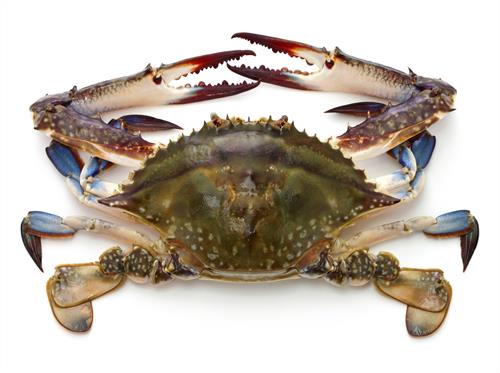 These days, when you go to a Japanese restaurant and see "crab" listed on the menu, you're likely going to end up with some "reconstituted" variant. "Surimi," or "krab," as it's more commonly called, usually consists of a blend of white fish, starch and spices that's turned into a paste and then shaped into sticks which are then artificially colored to resemble the real thing. While it's cheap to manufacture, and is apparently petty popular, I fail to understand the attraction, as it not only has a weird look and texture, but it's often quite salty.
So, can you imagine our elation, when we heard that "Gazami," or REAL "Japanese blue crab" was up next? And think of the letdown, when we found out it was actually going to be served in the form of a "crab salad." [Crab salad? Come on! Is that the best you can do?]
Now real crab is often described as having a soft, delicate fish taste with a complementary mixture of sweetness and brininess. Sometimes "thready," the meat is often compared to lobster but, of course, is quite distinct. We order the "real stuff," whenever we can, and ask for it unadorned and as close to "natural," as possible. The last thing we wanted was a jar of mayonnaise overwhelming the creature's unique taste.
And, unfortunately, the "Blue Crab with Crispy Rice," served at "SUNSET SUSHI," 2433 N Federal Hwy, in Boca Raton, Florida, came buried in sauce. That, to me, is a "peccatum mortale" – a mortal sin -- which warranted a failing score (if not eternal damnation) but, given that we had enjoyed the balance of our meal, this item managed to escape with an overly generous "C+."
Yes, I'm starting off the New Year on a very crabby note. But let's save all that dressing for the fake sh*t … please.
.
.
#lucasaferrara #sushi #omakase #sushirestaurant #japaneserestaurant #japanesefood #rawfish #fish #seafood #diningout #bocaraton #bocarataonrestaurant #bocafood #southfloridafood #crab #bluecrab #japanesebluecrab #krab #surimi #southfloridarestaurants #diningout #eatingout #foodreview #foodcritic #foodie #foodies #food #restaurant #restaurants #crustacean