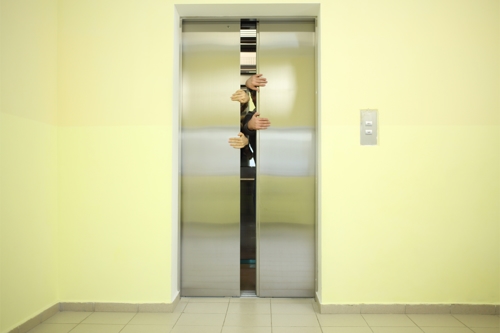 Many of us have gotten trapped in an elevator at one time or another, and it's often not a lot of fun. But it needn't always be that way.
▫️
STUCK, written and directed by Vanessa Bailey, gives us a glimpse as to how a chance encounter in a malfunctioning lift can change the course of people's lives … in an interesting way.
▫️
This endearing romantic-comedy completed shooting (in London), just a few short weeks ago, and Vanessa was kind enough to share some behind-the-scenes footage with us. While still in the early stages of post-production, I'm sure you'll agree (from reviewing the accompanying clip) that this work is looking quite good.
▫️
The team members that helped us overcome incredibly frustrating COVID-related challenges, and got us to the finish line, include:
▫️
Crew:
Director - Vanessa Bailey
Producers - Lucas A. Ferrara & Henry Hereford
Production Manager - Matt Bailey
DoP - Calum Currie
1st AD - Marie Sophie Driffield
1st AC - Philippe Stenier
2nd AC - Zana Piber
Gaffer - Spike Graham
MUA - Adrianna Wilson
Score - Will Goodchild
Editor - Chris Frith
Sound - Blai Escayola
Costume - Kyle Flynn-Davies
Costume Asst - Lydia Hughes
Hair - Katie Bailey
BTS - Seb Marshall
BTS - Polly Standring
BTS stills - Andrea Capello
Production Design - Johnny Savage
Catering - Ronelle Botha
▫️
Cast:
Sean - Simon Haines
Stella - Emily Tucker
Queenie - Tolu Stedford
John - Ikky Elyas
Richard - Neil Frost
Priest - Rob Maynard
▫️
Thanks to their ingenuity, persistence, and professionalism, STUCK promises to be a truly uplifting film.
.
.
To view a list of some of Lucas's other projects, click here.
.
#lucasaferrara #elevator #elevators #trapped #elevatormalfunction #movie #movies #film #films #indiemovie #indiemovies #romcom #romanticcomedy #romance #comedy #drama #femalewriter #femaledirector #directors #filmmaker #filmmakers #filmmaking #storyteller #independentfilm #independentfilms #stuck #shortfilm #shortfilms