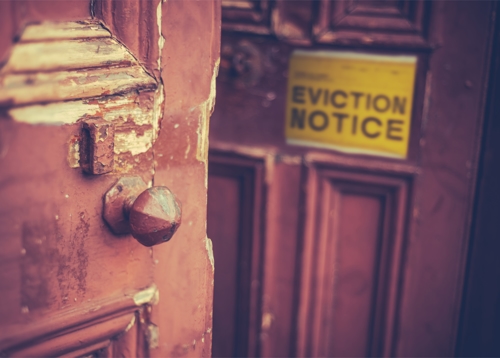 OUT YOU GO!
Many of the COVID-19 related protections, afforded by New York State to struggling tenants, officially ended on January 15, 2022.
New York's Office of Court Administration (OCA) released an Administrative Order earlier this month, informing judges and non-judicial staff that, "[a]ll residential and commercial eviction matters, both nonpayment and holdover, may proceed in the normal course."
A memorandum accompanied that Administrative Order, and we have highlighted some of the protocols and policies that are delineated therein:
The requirement to automatically stay (or toll) eviction proceedings, when tenant submits a hardship declaration, has expired. (Earlier, just the delivery of the hardship declaration to a landlord, landlord's agent, or the court meant that the proceeding would be stayed or tolled.)
Courts can now accept new residential eviction proceedings without needing (a) an affidavit of service of the hardship declaration, or (b) an affidavit that no hardship declaration has been received from the tenant. (Furthermore, a hardship declaration no longer needs to be served with a notice of petition.)
Residential tenants who suffered pandemic-related financial hardship during the "COVID-19 covered period" (i.e., between March 7, 2020, and June 15, 2021), still enjoy the protections of the Tenant Safe Harbor Act (TSHA) and cannot be evicted for any non-payment of rent during that period. (However, the TSHA does not prohibit courts from awarding money judgment for rent owed during the COVID-19 covered period.)
Tenants who applied to the Emergency Rental Assistance Program (ERAP), and whose applications are still pending, continue to be protected from eviction until a final determination of eligibility has been reached. (ERAP protections do not apply if a tenant intentionally causes damage to the property or engages in objectionable conduct or nuisance behavior.)
Although an automatic stay will no longer be granted, the submission of a hardship declaration shall serve as (rebuttable) evidence that the tenant faced financial hardship. (Notably, the absence of such a declaration does not create a presumption that no hardship is present.)
Additional steps to the issuance of a warrant of eviction shall no longer apply. Where the execution of an eviction warrant has been stayed through January 15, 2022, petitioners must move to vacate that stay. (The pre-pandemic conference requirement for execution of eviction warrants (issued prior to March 17, 2020), remains in effect.)
Courts need not hold a hearing upon petitioner's motion before (a) issuing a default judgment authorizing residential eviction, or (b) authorizing the enforcement of an eviction pursuant to a default judgment. (However, no judgment or warrant can be issued on default without a motion to the court.)
If you (or someone you know) is facing COVID-related financial hardship and/or fear eviction, you can consult with one of our attorneys, to discuss your available options, by calling 212.619.5400.
ADMINISTRATIVE ORDER OF THE CHIEF ADMINISTRATIVE JUDGE OF THE COURTS (AO/34/22)
JANUARY 16, 2022 MEMORANDUM OF THE CHIEF ADMINISTRATIVE JUDGE OF THE COURTS