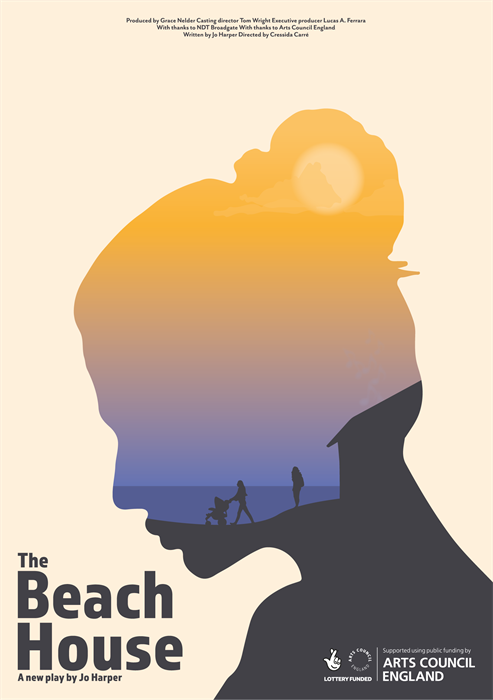 THE BEACH HOUSE, a new play by Jo Harper, recently had a successful stage reading at London's New Diorama Theatre Broadgate. (You can catch a glimpse of the play in the video below.)
Produced by Grace Nelder, and supported by the Arts Council England, this stellar piece "focuses on women, aspiration, family, and desire."
Featuring Isaura Barbé-Brown (@isaurasaurus), Rosie Sheehy (@rsheesh), and Olivia Dowd (@dobbyd), we watch the struggles of an expecting couple, as challenges are posed to their relationship.
According to the synopsis which you'll find on Jo Harper's website, Musician Liv and her pregnant girlfriend, Kate, are house-hunting and find a quaint, old seaside place in need of renovation. After moving in, as Liv attempts to complete her album and repair the home, Kate's younger sister, Jenny, stops by — presenting a dangerous distraction.
An attraction soon develops between Liv and Jenny, straining Liv's relationship with Kate. Baby Lola arrives and the pressures of motherhood pull the two parents even further apart.
When Jenny later reappears, seeking friendship and solace, (after having an abortion), Liv and Jenny submit to their carnal desires and begin an affair … but with dire consequences.
Credits:
Written by: Jo Harper @joharperdoyle
Directed by: Cressida Carré #cressidacarre
Dramaturg: Yaël Shavit #yaelshavit
Casting by: Tom Wright @tomwrightious
Poster design: Parson James @parson.james
Video: Time Bomb Pictures (Dan Poole) @timebomb_pictures @deadpoolepoole
Produced by: Grace Nelder @gracenelder + yours truly
To learn more about this exciting project, visit http://www.joharper.com/
#lucasaferrara #play #playwright #acting #playwright #playwriting #stagereading #thebeachhouseplay #drama #theatre #theater #writer #director #directors #creative #creatives #uktheatre #arts #women #aspiration #lust #desire #lgbt #lgbtq #relationships #relationship #love