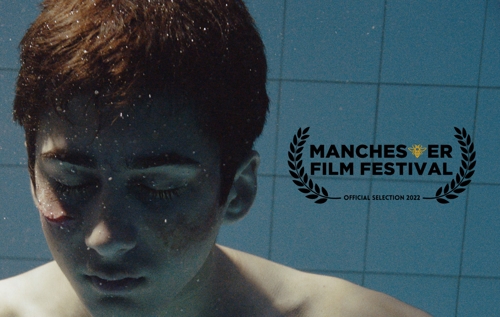 We are delighted to announce that FIND THE LIGHT has been selected to premiere at the BIFA qualifying Manchester Film Festival, on the 16th of March 2022.
The film stars GEORGE MACKAY, CRAIG MCGINLAY, RHYS STONE, SEEMA BOWRI, AMERJIT DEU, and introduces 16-year-old JAYSOL DOL.
The story follows a victimized boy who decides to confront his inner demons by drowning himself, and during the process finds purpose and meaning.
Our selection to this esteemed festival would not have been possible were it not for the selfless dedication of our entire cast and crew:
Written, produced & directed by: ABDULLAH KHAN
Produced by: LUCAS A. FERRARA
Executive Producer: CAMERON KROGH STONE
Associate Producer: CHARLIE RIZEK
CAST:
Zak Anwar - JAYSOL DOY
Lifeguard - GEORGE MACKAY
Louis - RHYS STONE
The Mother - SEEMA BOWRI
The Father - AMERJIT DEU
Lifeguard #2 -CRAIG MCGINLAY
Marcus - KEENAN MUNN-FRANCIS
Jack - SPENCER ALLUM
Nick - HARRY MILLER
David - FINLAY VANE LAST
Daisy - SARAH FELDMAN
Liam - LUKA GUSIC
Dominic - KYLE TAYLOR
Muslim Girl - JUWAYRIYYA KHAN
Asian Boy - BEN GONZALES
Black Boy - AARON IBN-IBRAHIM
Pedestrian #1 - HOLLY CAUSER
Pedestrian #2 - JOSH SALES
Studio Photog - MIKOLAJ WASOWSKI
CREW:
DOP - ARRAN GREEN
Prod. Designer - MIKOLAJ MASOWSKI
Location - MARIA LUZ TREMSAL
Prod. Manager - STEVEN JERAM
Costume Design - HOLLY CAUSER
Hair & Make-up - SILVIA FERNANDEZ LOPEZ & SOPHA MASCARENHAS
Script Super. - MERRYN PEACHY
Set Dresser - ADAM HOWE
Ass't Directors - MATTEO STROBELT & TOP TARASIN
Crowd Assist.Dir. - JOSH SALES
Prod. Assist. - KAIYAN-LAI, DAVID KEMIKI, JESS HATTON & BAILEY KELLY
Editor - RUDA SANTOS
Colorist - FELIPE SZULC
Addit'l Editors - CARLY BROWN & ABDULLAH KHAN
Assist Editor - TIMEA KALDERAK
Storyboard Art - LOTTIE BROCKLESBY
Visual Effects HARRY BINSTEAD
Credits & Trailer Designer - FILIP PARULSKI
Poster Designer - CONG NGUYEN
Composer - HOLLIE BUHAGIAR
Rerecording Mix - MICHAEL F. BATES
Sound Mixer - RUFUS AMBLER
Boom Operator - DAVID SALVATIERRA
Casting Dirs. - CAMILLA ARTHUR & SYDNEY ALDRIDGE
Casting Ass'ts - CARMEN GAGGERO & ELS HOUSLEY
Trinity Op. - JAMES POOLE
Underwater Op. - ZACH MACAULAY
Gaffers - FEDERICO BELLOLI & JACK MATHER
Electrician - MACKENZIE STRETCH
Focus Puller - DANIEL DAYTON
Clapper Loaders - JAMES TILYARD & OSMAN TEKDEMIR
Camera Trainee - JAMES HAITHWAITE
Unit Driver - KRISTIAN DELAHOY
Set Trainee -CONNIE JENKINS-GREIG
Prod.Trainees - ELLA MCBRIEN & ELOISE GREENACRE
# # #
See you in Manchester!
# # #
To view a list of some of Lucas's other projects, click here: https://www.imdb.com/name/nm11739610/.
# # #
#findthelightshortfilm #officialtrailer #drama #indiefilm #shortfilm #filmmaking #youngfilmmakers #racism #discrimination #mentalhealth #georgemackay #craigmcginlay #jaysoldoy #indiefilm #indiefilms #film #films #teendepression #teensuicide #suicide #depression #bullying #discimination #drama #dramas #shortfilms #moviemaker #filmmaker #teenagedepression