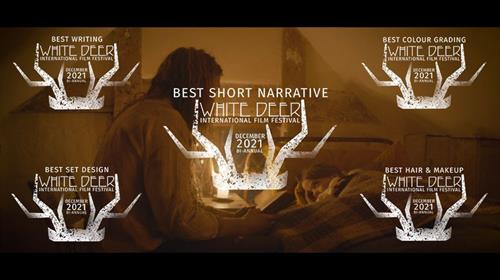 BLIND INNOCENCE is the story of a father and his young daughter, living in an isolated, 1800's countryside cottage. This piece follows their minimalist day-to-day existence as they grow their own produce to sustain their way of life. The youngster is confounded by her father's daily disappearances, and his outings spark a curiosity in the child, who has never been allowed to travel beyond the property's perimeters. As the film progresses, we uncover a dark, underlying secret that the father has withheld from his daughter.
Recently submitted to festivals across the globe, BLIND INNOCENCE has already received quite a few accolades, including FIVE (5) "BEST" awards from England's White Deer International Film Festival. In addition to Best Short, the film won Best Writing, Best Color Grading, Best Set Design, and Best Hair & Makeup.
Mark Wisdom and Alastair Railton are White Deer's co-founders. Alastair shares in this clip that BLIND INNOCENCE was his "personal favorite," and that he "really loved the concept." We are humbled by his kind words, and express our gratitude to the entire White Deer team.
And, finally, BLIND INNOCENCE would not have been possible were it not for the contributions of our multi-talented cast and crew. Join me in thanking:
Cast:
Lucy Murray-Watson @lucymurraywatson
Stuart Wolfe-Murray @boywolfemurray
Crew: Written, directed, and edited by: Hugo André
Associate producer: Will Masheter
Production manager: Adele Marie @adelemarieheenan
DOP: Dylan Vivian @dylan.bijou
First Assistant Camera: Flo Goodlad-Skinner @flo_sknr
Sound Operator & Design: Atom Inions @atom3eq
Music by: Audio Networks
.
###
You can view a list of Lucas's other projects here: https://www.imdb.com/name/nm11739610/
###
#lucasaferrara #movie #movies #short #shorts #awards #indiefilm #indiefilms #drama #periodpiece #family #fatherdaughter #simplelife #simpleliving #independentfilm #bestdrama #bestscreenplay #screenplay #creatives #artists #art #independentfilms #filmfestival #film #films #actors #directors #directing #acting #fiction