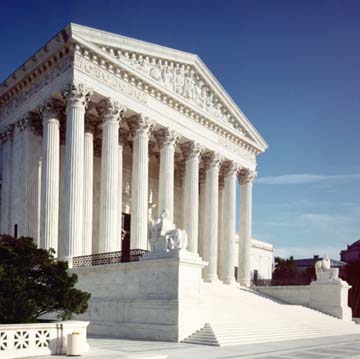 Which Way Will the Supremes Go?
Los Angeles landlords, and an influential legal advocacy group, are urging the country's highest court to determine the constitutionality of COVID-era eviction moratoriums.
During the pandemic's first wave, back in March of 2020, the City of Los Angeles, much like other cities across the nation, enacted a local ordinance forbidding evictions and freezing rent. In June that year, local landlords, represented by the Apartment Association of Greater Los Angeles (AAGLA), filed a legal challenge.
Now, more than a year-and-a-half later, AAGLA continues to fight LA's eviction moratorium (which is still in effect) ,and has found a new ally -- the New Civil Liberties Alliance, a Washington, D.C. based organization funded, in part, by the Charles Koch Foundation and Thomas W. Smith Foundation.
AAGLA's lawsuit, filed in the federal district court, argued that LA's local ordinance interferes with private contracts, thereby violating the U.S. Constitution's Contracts Clause (which is intended to protect individuals from intrusion by state governments). The plaintiffs sought to immediately halt the ordinance, claiming that the illegal governmental intervention was causing irreparable harm to property owners and other landlords. Back in November 2020, the district court judge denied the requested injunctive relief, noting that while the ordinance placed a heavy burden on landlords, in light of the pandemic's extraordinary circumstances, it was necessary to grant "precedence to the vital interests of the public as a whole." The district court decision was affirmed by the Ninth Circuit Court of Appeals, in August 2021.
AAGLA has now taken the battle to the U.S. Supreme Court, arguing that the Contracts Clause was precisely intended for such emergencies, and that the California judges erred by allowing the pandemic-era legislation to stand. Jared McClain, the lead attorney for the New Civil Liberties Alliance, who filed an amicus brief in support of AAGLA's petition, said, "It's bad economic policy, and it's sort of what the founders were trying to deal with when they put these laws in place. In the long run it hurts the people that the government is trying to help."
AAGLA may find support in a recent ruling of a New York federal appeals court. In November of last year, the Second Circuit reversed a district court decision upholding New York City law that forbade landlords from enforcing personal liability guarantees on leases. That Second Circuit decision (which considered similar arguments concerning Contract Clause violations), clashes with California's Ninth Circuit ruling on the AAGLA challenge. The LA property owners and their allies believe that the split between the circuit courts on the east and west coasts makes this question particularly ripe for the Supreme Court's review.
Our nation's highest court is expected to indicate later this month whether it will be accepting this case for consideration.
SOURCE (SUBSCRIPTION MAY BE REQUIRED) - https://therealdeal.com/la/2022/01/07/can-la-landlords-get-to-supreme-court-on-eviction-moratorium/BI