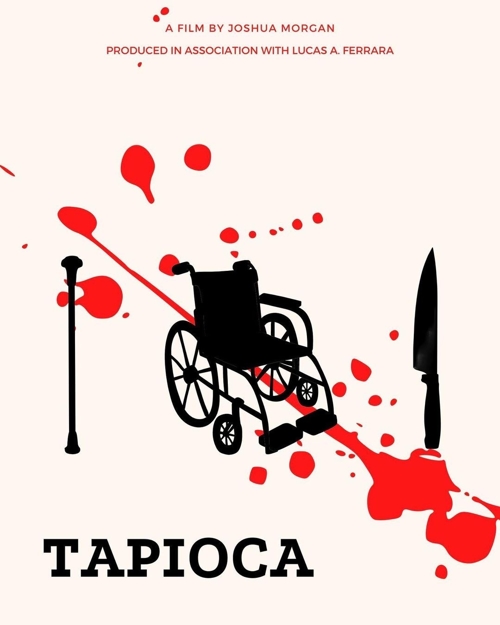 Born and raised in Tampa, Florida, Joshua Morgan reports that he knew at the tender age of 8 that he wanted to pursue a career in the arts. And, over the course of his young life, he has not only appeared in several theatrical productions but has worked as the official videographer for Universal Business Solutions, co-directed/starred in the award-winning short film, "The Show," and has already directed two feature-length movies. (Recently, Joshua and his team shot "Children Of the Pines" -- the pilot episode of his horror anthology series. That pilot is currently competing in film festivals across the globe.)
His intense passion for film-making has inspired him to write, direct and co-star in, a new short called "TAPIOCA," a project which Joshua describes as a "dark farce and borderline surrealist film."
In this story, we are introduced to two elderly gentlemen who happen to be nursing-home residents. As they reminisce about their lives, the duo realize they have little in common – except for a shared love of tapioca pudding. Of course, things go terribly awry when the men are informed that the facility's supply of that dessert has suddenly, and quite mysteriously, been depleted.
To help get his latest endeavor realized, Joshua has initiated a crowdfunding campaign, where in exchange for a contribution to the project, you can score such "perks" as a digital copy of the script and film, a signed movie poster, access to behind-the-scenes images, a Tapioca face-mask, t-shirt, and/or hoodie, a prop from the set, to even appearing in the film as a featured extra or by way of a virtual cameo.
To learn more, visit: http://kck.st/3goEimX
But be forewarned, the faint of heart will likely find this grisly, gruesome tale ... extremely off-pudding.
# # #
# # #
To view a list of some of Lucas's other projects, click here: https://www.imdb.com/name/nm11739610/.
# # #
#lucasaferrara #film #films #horror #horrorfilm #horrorshort #drama #comedy #indiefilm #indiefilms #movie #movies #independentfilm #director #writer #screenplay #actor #youngactor #youngdirector #moviemaking #moviemaker #pudding #tapioca #tapiocapudding #dessert #desserts #senior #seniors #seniorcitizens