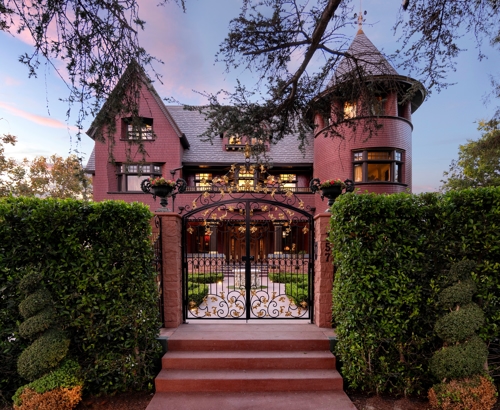 Grab Kat Von D's Hancock Park Home
Kat Von D, star of the hit television series L.A. Ink, just listed her incredible Los Angeles mansion for sale at $15 MM. (And, of course, this ain't your typical celebrity mansion.)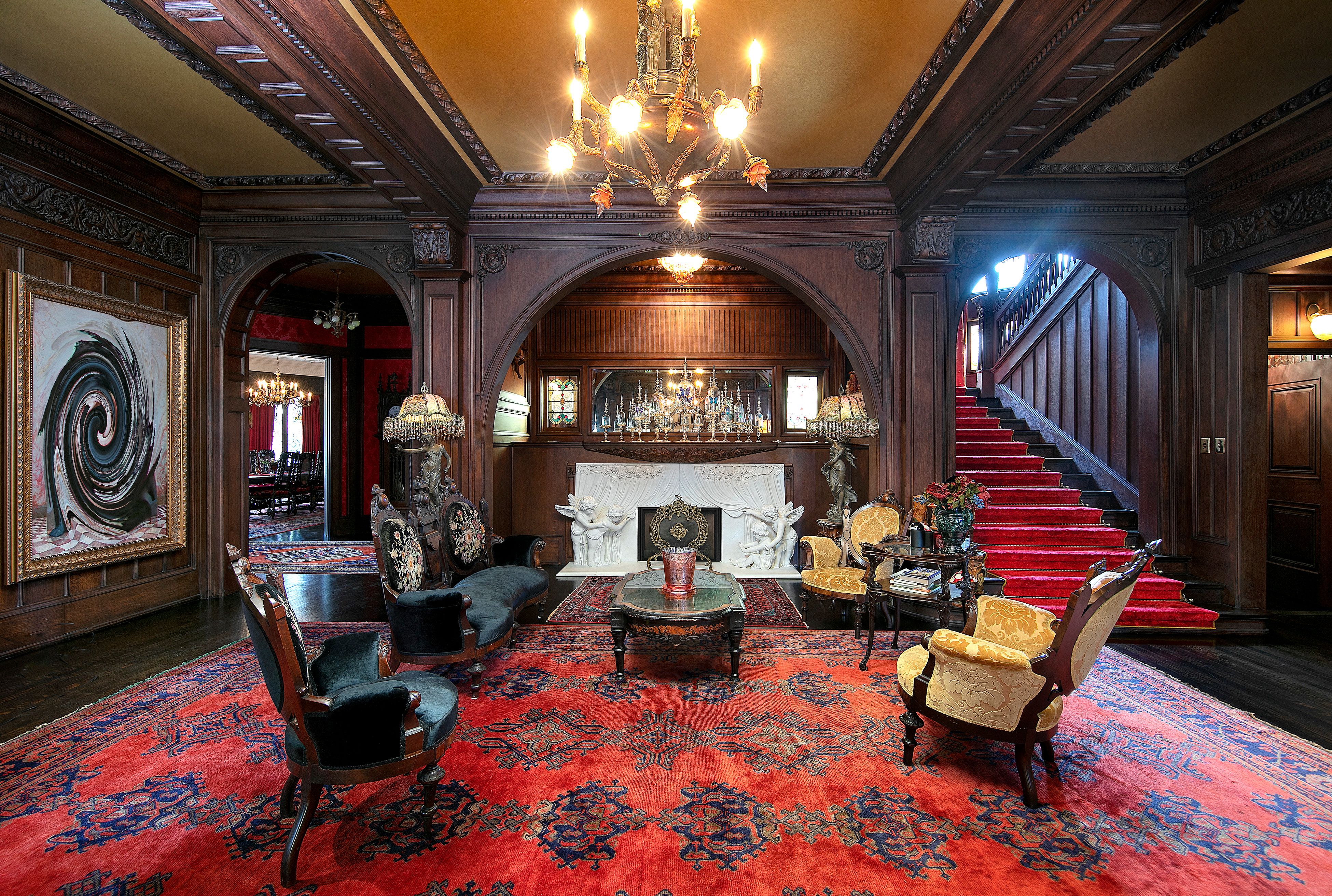 Resembling Wayne Manor, Von D's three-story Victorian measures over 12,500 square feet, and sports 11 bedrooms and 8 ½ bathrooms, with each room more impressive and detailed than the last. Step through the grand entrance into an expansive foyer featuring an ornate, white marble fireplace (surrounded by marble angels attempting to keep warm), as well as a large seating area. The intricate woodwork on the ceilings and walls draws visitors into the open walkways leading to the library, den, living rooms, and the rest of this incredible home.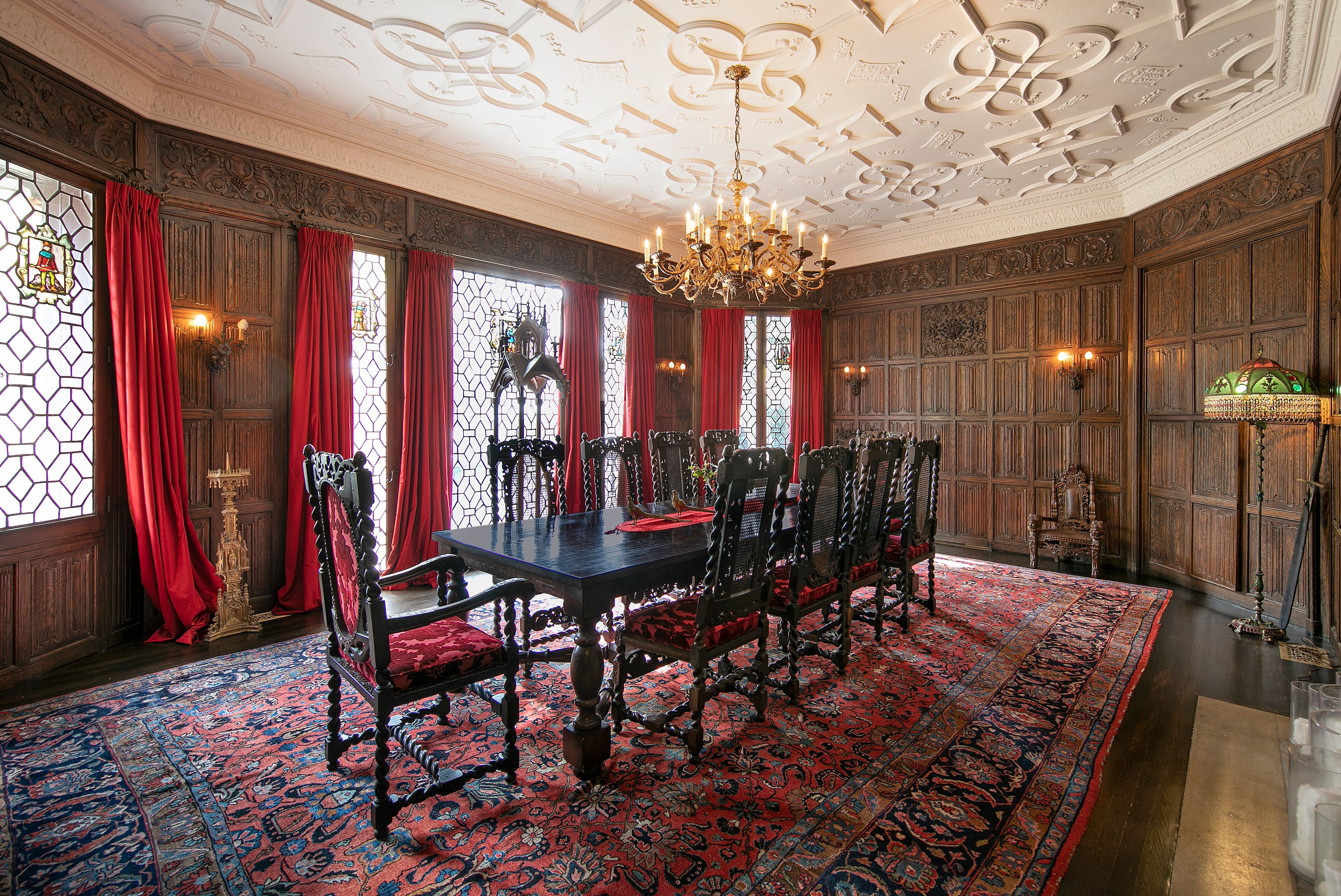 The formal dining room has coffered ceilings, along with grand, floor-to-ceiling windows patterned with stained glass.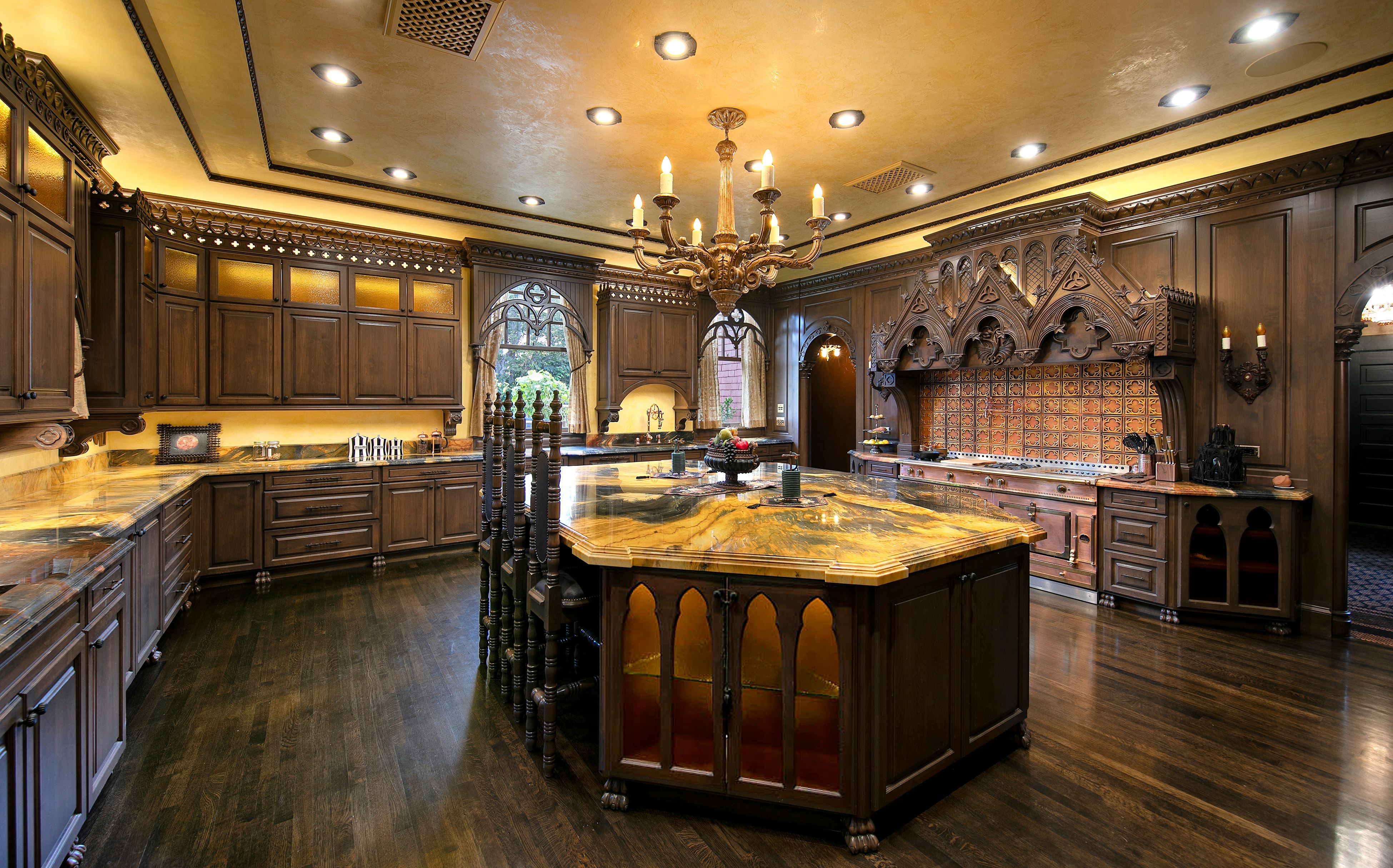 The chef's kitchen is fully renovated with all top-of-the-line appliances, and an adjacent hidden bar with hand-carved walls allows entry to the secret passageway leading outside. Each bedroom has its own unique décor, with the master sporting a large mural of a cauldron of bats flying over an ominous forest.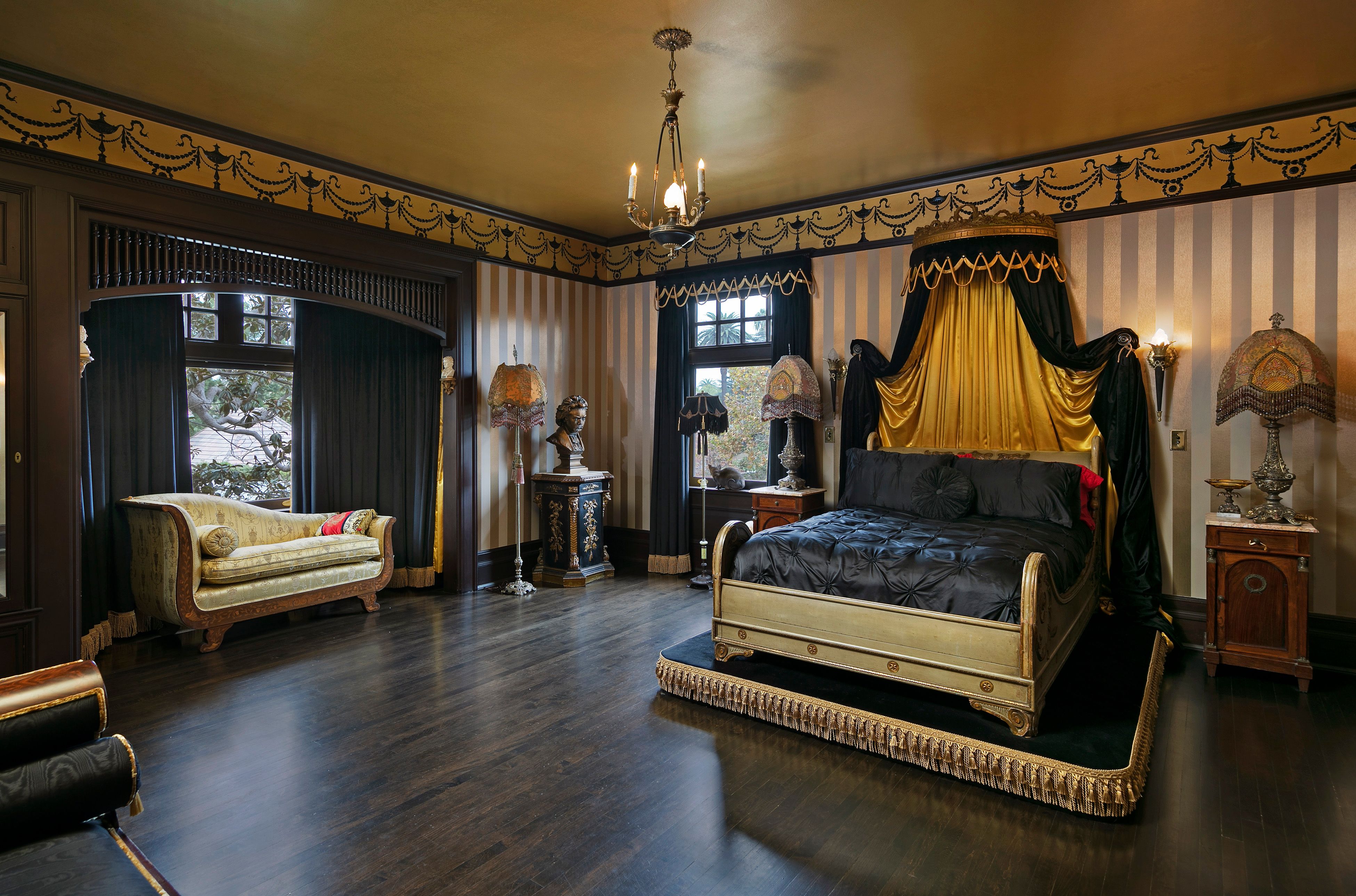 The home also comes with a large theatre, and all systems have been updated, including the multi-zoned HVAC system (no easy feat in a home dating back to the 1890s). Striking red brick and exposed turrets further accentuate the residence's Gothic style.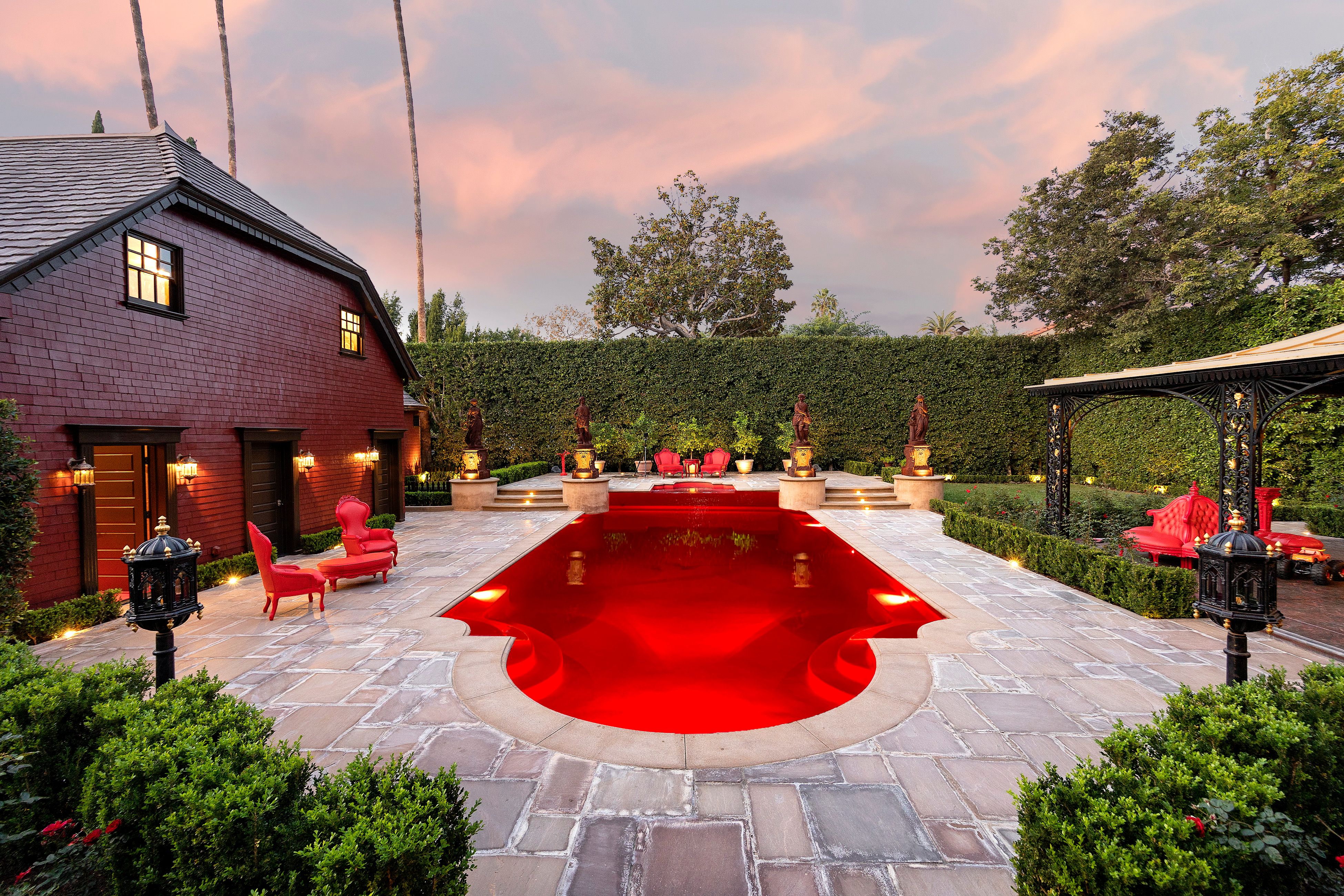 Sitting on over a half acre of property, the outside is just as impressive, with manicured grounds, maze-like gardens, and fountains bordering the home. And if that weren't enough, Von D has a blood-red swimming pool in the backyard surrounded by classical statues and a large patio. (Don't worry – it's not real blood; well at least as far we know.) A two-bedroom, two-bath guest house sits atop the garage as well.

A historical timepiece, the home was originally built in the 1890s by Isaac Newton Van Nuys (famous for owning the entire southern portion of the San Fernando Valley and for whom the city of Van Nuys is now named). It was also the location for the 2003 Steve Martin film Cheaper by the Dozen. Von D purchased the home in 2016 for $6.5 MM, and now that she plans to move to Indiana to spend more time with family, she'll be looking at a nice profit if the home sells at her asking price.

Hancock Park, (near central L.A.), is conveniently located next to 2 major freeways, as well as the entertainment zone of Hollywood Blvd. The area includes numerous shops and restaurants, as well as the Wilshire Country Club and the L.A. County Museum of Art. Many historic houses, such as the Van Nuys mansion, are still in the area – including those belonging to Muhammad Ali, Howard Hughes, and Nat King Cole.

Jamie Sher of The Sher Group currently holds the listing.

### ###

Source: https://toptenrealestatedeals.com/weekly-ten-best-home-deals/home/kat-von-ds-cheaper-by-the-dozen-movie-mansion

Photos: https://www.dropbox.com/sh/fqd899oxjjmxemd/AADKzKZ2EdSPsdtj11CPXarea?dl=0

Video: https://youtu.be/sPZKVF2DrNw

Video Credit: Sean Evans, @evvo1991https://www.backtothemovies.com/