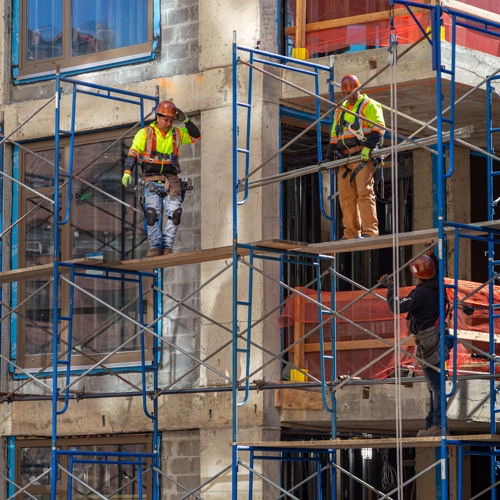 Older commercial buildings are struggling
As some semblance of normalcy returns to our daily lives, property owners are eager for businesses to return to "in-person" operation. But, while leasing has picked up in newer commercial spaces, vacancy rates remain high among New York's older office buildings.
According to a recent BNN Bloomberg article, about 65% of new lease deals involved higher-quality structures, i.e., those that were recently constructed or have undergone a significant renovation. The owners of "older" buildings, thus, have a difficult decision to make—pour millions of dollars in major makeovers, or risk dwindling rent rolls and potential mortgage defaults and foreclosures. While the former may seem like the more obvious (albeit, costly) option, a full gut-renovation is still a gamble, says Bloomberg, especially at a time when businesses are shrinking their physical footprint and opting for hybrid working models.
The piece also cites to a report from the CoStar Group Inc., which shows Manhattan's current office-vacancy rate at 12.3% -- up from 7.8% two years ago. And at least 15% of existing commercial buildings are reporting 1/5th vacancy, per the report. Whatever little leasing activity there is, appears to be largely limited to new skyscrapers like the Hudson Yards mega-development and One Vanderbilt near Grand Central Terminal. Buildings more than 20 years old—which comprise roughly 90% of the city's office stock—appear to be lagging.
"The market is telling us very clearly that the era of driving to the cheapest price on office space, regardless of its condition, is, for most companies, no longer an acceptable real estate strategy," said Mary Ann Tighe, of CBRE Group Inc., a brokerage firm in New York's tri-state region. Ruth Colp-Haber, CEO of another brokerage company, Wharton Property Advisors, described the situation as follows: "The really cool buildings have a huge amount of activity. But for anything other than 'really cool,' the landlords are struggling and the dichotomies are getting worse."
CoStar's findings seem to confirm that hypothesis. Iconic (but "dated") buildings like 85 Broad St. (Goldman Sachs Group Inc.'s former headquarters), and 4 Wall St. (across from the New York Stock Exchange), have a vacancy rate of around 20-30%, according to the report.
Even if those landlords allocate money to modernize their buildings, experts like Sarah Hawkins, East Region CEO at Hines, believe they still won't be able to compete. "It really boils down to basic elements of the building: ceiling heights, structure, location, window line -- that all matters," Hawkins said. "Even with a full repositioning, you can't compete because of the bones in the building."
Sounds like a fractured market, if you ask us.
SOURCE - https://www.bnnbloomberg.ca/manhattan-offices-face-reckoning-as-older-buildings-get-left-behind-1.1719539