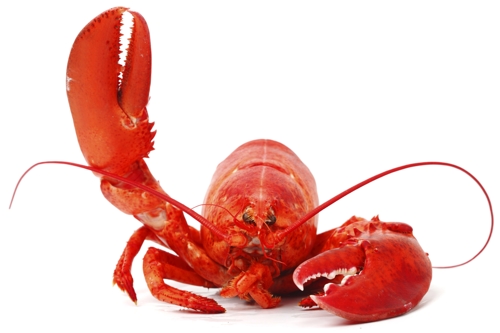 Even though it's packed with loads of sodium, carbs, cholesterol and fat, LOBSTER AVOCADO SALAD does offer some nutritional benefits. In addition to significant protein, it's a great source of dietary fiber, calcium, collate, and vitamins, C, E & K, and loads of potassium.
Again, the recipe isn't particularly complex. You typically mix lobster, celery, mayonnaise, and lemon juice; season to taste; and gently fold in avocado; and immediately serve. Easy breezy! But many places just mess this thing up … terribly.
And, unfortunately, that was the case at Okeechobee Prime Seafood – "a traditional fish house focused on local and regional seafood." (You'll find it directly behind Okeechobee Steakhouse, at 2888 Shawnee Ave, West Palm Beach (Florida).)
Thankfully, when we ordered their LOBSTER AVOCADO SALAD ($22.99), we didn't get half of a pitted avocado filled with bits of the crustacean drowning in mayonnaise. This version had a bit more flair. But while it looked promising, it didn't live up to expectations, with the two pieces of toasted bread on which all the ingredients were parked having an overly hardened, stale-like quality. It detracted; immensely.
While all the veggies weren't bad, the creamy avocado was showing slight signs of oxidation. And for $23 (before tax and tip) we thought we deserved better. The high price point, combined with the lobster being slightly chewy (overcooked) resulted in yet another "F" score.
Come on, people. Why go broke shelling out money on something like that?
# # #
# # #
#seafood #fish #meat #steak #lobster #lobstersalad #avocado #restaurant #restaurants #foodreview #foodreviewer #salad #lobsteravocadosalad #southfloridafood #foodie #foodies #dinner #fishhouse