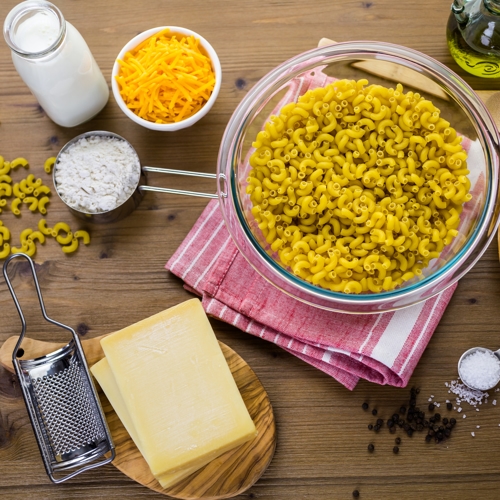 According to celebrity chef INA GARTEN, a/k/a the "Barefoot Contessa," a LOBSTER MAC & CHEESE should consist of "[b]uttery lobster mixed into creamy, creamy mac and cheese and baked until crispy and bubbly on the top …."
[By the way, Garten really isn't a countess. That was the name of a specialty food shop she ran in the Hamptons. And according to published reports, she's rarely barefoot. (She's typically spotted on the telly wearing flats.)]
Made with a roux using lots of butter, milk/light cream and flour, cheeses -- like cheddar, gruyere, mascarpone, and even parmesan -- are then added to the mix to yield a rich, creamy sauce. Add some precooked pasta and your preferred protein (if any) ... and voilà!
While our other dishes at Okeechobee Prime Seafood – "a traditional fish house focused on local and regional seafood," located at 2888 Shawnee Ave, West Palm Beach (Florida) – were a total mess, we thought we'd be brave and try their iteration of this decadent comfort food item, particularly since our server "strongly" recommended it.
But when it arrived, we didn't like the look of this dish, at all. We thought it was overcooked and that the exterior was way too crunchy, and the interior was drier than we preferred; it needed to be creamier. And for $23 (BEFORE tax and tip) we thought the portioning was chintzy, both in terms of the allocated pasta and accompanying meat. (The lobster pieces were practically invisible to the naked eye.)
Because it rated an "F," you may want to go pasta this pricey LOBSTER MAC & CHEESE.
(Was that last line a bit too cheesy?)
.
.
#seafood #fish #meat #lobster #macandcheese #restaurant #restaurants #foodreview #foodreviewer #lobstermac #southfloridafood #foodie #foodies #dinner #fishhouse #lobstermacandcheese #cheese #macaroni #southfloridafood #southfloridarestaurant #southfloridafoodie #floridafoodie #floridafoodies #pasta