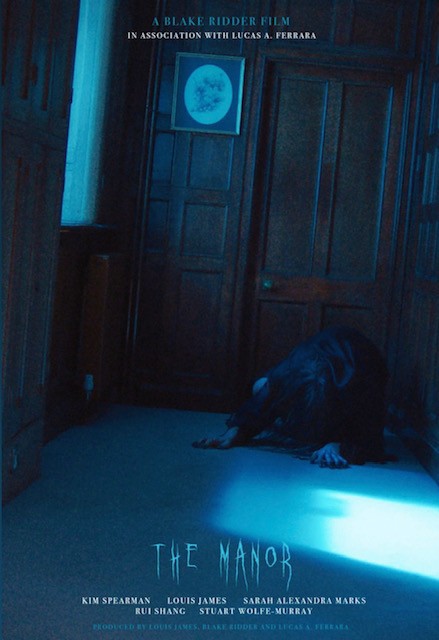 What is evil?
▫️
If you ask around, you'll likely get a bunch of different answers. For some, the word not only encompasses human acts which are immoral and/or wrongful, but uncontrollable "natural" occurrences — as in earthquakes, tornados, and tsunamis. For others, it's manifest in monstrous, other-worldly forces that are believed to impact our world.
▫️
For Blake Ridder, the writer and director of a new horror feature called "THE MANOR," the notion of evil takes on a novel, spine-chilling complexity.
▫️
And as you can see from this "teaser," the cast and crew did an amazing job, particularly in the face of the pandemic related obstacles that were thrown their way. Special thanks to each one of them for their stellar work:
▫️
Cast
Kim Spearman
Louis James
Sarah Alexandra Marks
Rui Shang
Stuart Wolfe Murray
Danielle Scott
Amy Jin
Stacey O'Shea
Blake Ridder
Jasmine Rachelle
Peter Cardona
Christian Stevens
▫️
Crew
Writer/Director/DOP – Blake Ridder
Producer – yours truly + Louis James
Line Prod/UPM – Jeffrey Louis Salkild
Head Runner – Christian Stevens
Runner – Phoebe Arthurs
First AD – Tom Gordon
Script Supervisor – Jeffrey Louis Salkild
Camera Op – Raki Ralko
1st Asst Camera – Bradley Shemmell
2nd Asst Camera – Georgia Poxelaris
Data Wrangler – Georgia Poxelaris
BTS – Sophie Goffin
Sound Mixer – Lee Viesnek
Sound Mixer – Karem Isik
Gaffer – Leon Springer
Spark – Charlotte Lees
Makeup Head – Leandro Annunziato
Ass't Makeup – Samantha Maddox
SFX Makeup Head – Hannah Stevens
SFX Consultant – Kate Griffiths
Production Designer – Charlie Swain
Fight Choreography – Esme Cooper
▫️
Gripping, grisly, gruesome, and gory, THE MANOR will keep you at the edge of your seats.
▫️
For a limited time, you can be part of the production (before it is publicly released). To learn more, visit:
https://igg.me/at/the-manor-post-production/x#/
▫️
I would click that link now, if I were you ....
.
.
. .
#
#
#
#
#
#
#lucasaferrara #horror #horrorfilm #horrormovie #horrormoviesendingexplained #film #films #filmmaking #filmmaker #director #directors #directing #screenplay #movie #movies #UKfilm #UKfilms